Submitted by

rgordon

on Tue, 12/13/2022 - 10:15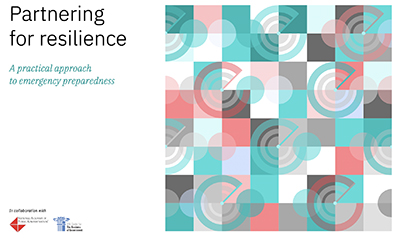 A practical approach to emergency preparedness.
Government leaders increasingly agree that "rare unexpected events" are now neither rare nor unexpected. Indeed, they are shocks—more frequent and more destabilizing. One now follows closely on the heels of another, and multiple events occur at the same time. For example, the pandemic continued as the Russian invasion of Ukraine began. Various climate challenges arose such as severe flooding in France, drought and bushfires in Australia, water shortages in California, and extreme heat in China.1 Now the economic fallout from the pandemic and the war has the World Bank and others concerned about a period of stagflation.
While governments were exposed to a host of mostly unforeseen challenges from the global pandemic, they have captured valuable lessons. Leaders understand where they need to concentrate their readiness efforts for "future shocks," carrying the momentum from rapid, pandemic- driven innovation into their preparation. IBM, working through the IBM Center for The Business of Government and the IBM Institute for Business Value, and in partnership with the National Academy of Public Administration (the Academy) and a range of other partners, has launched an initiative to help government leaders further identify those core capabilities critical to building resilience.
Collaborative action to address anticipated threats requires focus and cooperation across a broad ecosystem of partners and stakeholders. Each step forward helps build progress toward addressing major national and international priorities, including the Grand Challenges in Public Administration put forth by the Academy.
Over the coming months, we are convening a series of international roundtable discussions with global leaders from across the public, private, academic, and nonprofit sectors to capture lessons across six key domain areas:
Emergency preparedness and response
Cybersecurity
Supply chain
Sustainability
Workforce skills
International cooperation.
In each of these domains, insights from the roundtables will be used to identify strategies and solutions for governments to address the challenges that lie ahead. We plan to leverage previous work that captures wisdom from past experiences, such as the IBM Center for The Business of Government report published in 2021 on lessons learned from COVID-19.4 And then we will critically apply this knowledge to the future by identifying a set of practical and specific recommendations for near-term implementation.
The roundtable series began with emergency preparedness and response just as Hurricane Ian was forming in the Atlantic Ocean. In fact, some of our guests could not attend the roundtable and instead were leading preparation for the hurricane's landfall. The destruction from Hurricane Ian and the other disasters of the past few years underscores the criticality of renewed investment in national and subnational resilience to help governments cope with the increased frequency of regional and global rapid-onset events. Emergency preparedness and response can—and must— be improved to withstand the threats of today's world.