Submitted by

rgordon

on Tue, 02/08/2022 - 09:39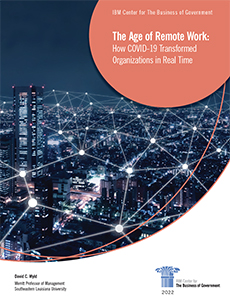 The COVID-19 pandemic has transformed how Americans live.
In almost the blink of an eye, the pandemic changed shopping, dining, socializing, travel, and most assuredly the world of work.
Before the pandemic, there had been a slow but steady growth in the number of workers who performed their jobs remotely. Such work arrangements went by various labels, from remote work to distance work to telecommuting or telework (a term which was used in the Telework Enhancement Act of 2010, encouraging federal agencies to engage in such work arrangements). While predictions that much work could be done anywhere arose, the COVID-19 pandemic took remote work to a whole new level as a necessity.
Professor Wyld's report chronicles changes in modern office work arrangements across government agencies and private sector companies in response to the pandemic. The report identifies challenges facing both workers and their organizations, and outlines the recognized and surprising benefits from this massive and rapid transition to remote and hybrid work arrangements. After describing the impact of COVID-19 on the nature of work, the report recommends core tools to help government manage a changing workforce and transformed work environment.
Professor Wyld offers 8 essential building blocks of a managerial mindset better suited to a post-pandemic work environment. Along with this new managerial mindset, the report offers 8 steps to guide managers and leaders for success in efforts to thrive with any combination of work arrangements, tailored to the needs of their workforce and in the best interest of their organizations. Wyld describes how the pandemic presents an opportunity to rethink the way work gets done, and to develop a new understanding of opportunities and challenges in working remotely and in managing remote work.
This report complements the insights outlined in an earlier IBM Center special report, Distance Work Arrangements: The Workplace of the Future Is Now, a collection of essays on the transition to remote work in the public and private sectors.
Federal agencies have used telework and remote work to deliver mission-critical services safely and efficiently during this national emergency. Agencies now have an opportunity to leverage lessons learned and fully integrate telework and remote work arrangements into their strategic workforce plans. We hope this report can assist federal agency leaders, managers, and the entire government workforce to leverage telework and remote work in the federal government to better meet human capital needs and improve mission delivery.