Submitted by

MKeegan

on Fri, 06/10/2022 - 14:42
Highlighting articles and insights in public management and leadership that we have found interesting for the week ending June 10, 2022
Connecting IT, Customer Experience, and Trust in Government. Through the Federal IT Operating Plan, the U.S. government is driving digital transformation across the Federal enterprise.
Introducing the Agile Government Center "Integrated Framework for Action". This blog is the first in a series based on the Integrated Framework for Action, described below.  The AGC is continuing to refine the Framework and the Principles on which it is based and would be pleased to receive comments, questions, and suggestions for improvement. @napawash @EdDeSeve
White House Developing National Strategy to Increase Data Collection as Privacy Tech Improves. The U.S. government wants to collect, analyze and share more of Americans' data, especially as new technologies and procedures offer the potential to do so without compromising citizens' privacy, and is developing a national strategy to align policies and regulations with that goal. The current administration is developing a national strategy on "privacy-preserving data sharing and analytics," according to a request for information on advancing privacy-enhancing technologies set to publish Thursday in the Federal Register.
Momentum and money. The idea that the government should tap into the savings and efficiency of shared services isn't new, but Carnahan said that the technology has evolved, as has the way that it's developed. "We need to be close to our customers. We need to make sure we get feedback from them before we develop programs and implement things to make sure it's serving their needs and in that tight feedback loop where we're actually improving," said Carnahan. Changing the culture will require educating contracting officers and building cross-functional teams with procurement, design and technology employees "holding vendors accountable to get this done," she said.
Approach' to Electric Grid Resilience. The Department of Energy (DOE) needs to develop a comprehensive approach to electric grid resiliency that coordinates disaster response and grid recovery, as well as utilizes lessons learned from prior natural disasters, according to a June 9 report from the Government Accountability Office (GAO).
Administration Welcomes Inaugural Cohort of US Digital Corps. The Biden administration is welcoming 40 new technologists to its inaugural cohort of the U.S. Digital Corps fellowship program, according to a new blog post from Federal Chief Information Officer Clare Martorana.
Easterly: Private Sector Trust Crucial for Incident Reporting Regime. As the Cybersecurity and Infrastructure Security Agency (CISA) continues to grapple with the early stages of a rulemaking process for recently enacted cyber incident reporting legislation, CISA Director Jen Easterly said it will be crucial to develop trust with the private sector so that the law is seen as "value-added" and not a burden.
NASA wants to expand data sharing with Space Force and commercial partners. The space agency's chief data officer explained the importance of making information exchanges a more consistent part of NASA culture.
TMF looks to measure more than just cost savings. The board of the Technology Modernization Fund is looking to support projects that impact the public through improved customer experience according to Executive Director Raylene Yung. One "big focus" is customer experience projects – "how can TMF investments and agencies make a large impact on the federal customer experience, so that's really how can we most improve the experience of a regular person, of the public, interacting with government," Yung said. She also pointed to cybersecurity and implementing the 2021 cybersecurity executive order as another big priority.
Courage is the fuel for great leadership. Courage is what drives good leaders to stand up for themselves and their teams and dedicate themselves to creating a different future, writes Dan Rockwell. "Sometimes you give yourself and come up empty, but when you give yourself to something that matters, you feel fulfilled," Rockwell writes. Leadership Freak
8 ways leaders can hone their empathy. Leaders who communicate clearly, are available to their teams and keep their own emotions and reactions in check will build a company people want to work for, writes Steve Farber. "When you infuse transparency and fairness into everything you do and say, you will be creating a company culture where empathy thrives, collaboration is fostered and there is mutual trust and understanding among your team," Farber writes. Extreme Leadership
How to align organizational design with strategy. Match company strategy with organizational design by defining necessary capabilities, separating competitive work from everyday tasks, empowering a cross section of leaders and revising company culture, write Navalent's Ron Carucci and Jarrod Shappell. "For your structure to enable your strategy, it must be agile enough to face the shifts, challenges, and opportunities from its marketplace, stakeholders, and employees," they write. Harvard Business Review (tiered subscription model)
Use these 5 tips to become a better listener. Improve your listening skills by paying full attention to the person you're with, restating their key points to ensure understanding, asking clarifying questions and making quick notes of important ideas, writes Brian Ahearn. "Remember, note taking isn't to write a novel, it's to capture key points and key words to jar your memory as you recall the conversation," Ahearn writes. ThoughtLeaders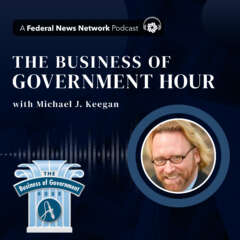 Next Week on The Business of Government Hour
:
Connect and Protecting the Warfighter in Cyberspace: Conversation with Lt. General Robert Skinner, Director, Defense Information Systems Agency (DISA
). What are the strategic priorities of the Defense Information Systems Agency (DISA)? How is it strengthening the security and resilience of networks and systems? What is it doing to prioritize command and control and leverage data as a Strategic Asset? Join host Michael Keegan as he explores these questions and more with Lt. General Robert Skinner, Director of the Defense Information Systems Agency (DISA).
Broadcast Schedule: The show airs Monday at 11 a.m., and Friday at 1 p.m. on Federal News Network 1500AM WFED
Anytime, Anywhere on...
https://www.podcastone.com/the-business-of-government-hour
https://itunes.apple.com/us/podcast/the-business-of-government-radio-hou