Successful Adoption of Intelligent Automation in Government: The Case of the DHS Procurement Innovation Lab
Submitted by

rgordon

on Thu, 09/10/2020 - 14:50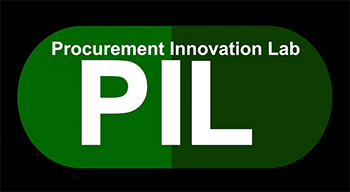 Thursday, September 10, 2020
Agencies across government can learn from DHS advances in adapting AI and other emerging technologies to support procurement innovation.
Pressure to do more with less, improve efficiency and reduce cost while meeting citizen needs is challenging government agencies. Intelligent Automation (IA) meets this challenge by transforming work while enabling the workforce to perform more effectively and efficiently.  Powered by artificial intelligence (AI) as part of an integrated platform -- which also includes Robotics Process Automation (RPA), analytics, process management, and digital strategy – IA can improve how federal agencies operate internally and serve customers externally. Agencies are beginning to make IA fundamental to transforming workflows and achieving the mission.
The IBM Center for The Business of Government and the Partnership for Public Service have commenced a series of webinars with government leaders to discuss how they are using these technologies to improve both how they work internally and how they provide services externally.  These sessions highlight real cases and lessons learned that can help all agencies understand how best to apply emerging technologies.  (The first webinar featured Jennifer Edgin of the U.S. Marine Corps.) 
In this second webinar, Sandra Oliver Schmidt -- Knowledge Management Lead with the Procurement Innovation Lab (PIL) at the U.S. Department of Homeland Security (DHS) – spoke about the role of AI and IA in helping DHS work with industry to test and implement new approaches to increase efficiency across the acquisition lifecycle.  Sandra's insights are relevant to agencies across government as they seem to modernize procurement and related systems and processes in supporting their missions more effectively (see the video of this webinar).
Sandra focused on stakeholder engagement as a key first step for the PIL in developing AI and related technology solutions -- considering the user, understand the user's work and how they do that work through a business process.  The PIL seeks stakeholder input through internal and external coalitions and thorough market research.  This research informs the PIL's decision as to whether a particular technology is the right choice for addressing an issue – for example, to address the issue of managing large amounts of information, AI proved an effective tool.
Sandra also spoke about the importance of leadership and agility to develop protypes and move to scale around IA and related approaches.  With support from the DHS Chief Procurement Officer Soraya Correa, the PIL innovates via focusing on small goals that enable learning from risk taking and failure before expanding. The PIL provides methods, techniques and a safe space for procurement teams to experiment and encourages them to use existing policy and process flexibilities.  Moreover, the PIL shares successes and lessons learned across DHS to foster a learning culture and counter resistance innovation.  In the end, Sandra, noted, the PIL's final goal is to help other teams develop with a self-sustaining business model that does not rely on PIL facilitation.
More detail from Sandra's session follows.
What is the Procurement Innovation Lab?
The PIL is a virtual lab for experimenting with innovative procurement techniques.  Procurement teams across DHS can come and experiment with innovative techniques, a capacity needed to help the workforce use existing flexibilities.  Sandra recalls that "Our chief procurement officer put a survey out there to the workforce, and what she learned was the majority of the folks were afraid. They were afraid because they didn't have the top cover, they wouldn't get that raise or they'd be labeled as a troublemaker. So, everyone was afraid to use these flexibilities, even though these flexibilities will result in better competition, faster awards, and better outcome."
PIL "coaches" help teams achieve better mission outcomes through facilitation and consultation sessions.  Coaches push these teams to try and use innovative procurement techniques, and DHS is already seeing better mission outcomes and reduced barriers to competition as a result.  The PIL also offers "boot camp" training -- eight hours of innovation techniques in person, taught by PIL coaches, which have now moved to a virtual environment.
How Does the PIL Leverage AI?
DHS' interest in AI and other emerging technologies has grown because of the challenge of resolving intra-agency issues around information management.  Specifically, DHS procurement relies on complex information from many different data sources, and the office is currently exploring how AI might help to mine that data in a way that, as Sandra reports, "helps get the right information to the right people so that they can make decisions faster, better and smarter."
A specific application of how the PIL assesses the promise of AI involves the Contractor Performance Assessment Reporting System (CPARS), which supports the acquisition community the government in understanding data on past performance by Federal contractors.   This has historically involved a long and cumbersome process of gathering data from companies. The PIL used a DHS authority called the Commercial Solutions Opening Pilot (CSOP) authority -- allowing rapid purchase for certain innovative commercial items under $10 mn --  to call for information from companies who could use AI to quickly find and analyze CPARS data.
The CPARS AI project creates an inclusive market and analysis tool.  Sandra reports:
"Ideally, when I go back to operations as a contracting officer, I could feed my solicitation into the CPARS AI tool, and the AI will be able to analyze CPARS to rapidly identify records for each offeror that are relevant to my solicitation and it will provide me with a report. It will give me insight into the CPARS data so that my team and I can make a decision regarding that company's past performance."
The CPARS AI project is managed in agile fashion in phases.  In phase one, nine companies each received seed money (about $50,000) to complement their own resource investment and create initial prototypes. A smaller subset of seven companies then received phase two awards, and they are now currently working on refining the approaches across a range of issues (e.g., security accreditation for software as a service).  Based on these results, the PIL plans a third phase and then hope to implement a full pilot.   This approach builds a competitive marketplace for AI solutions that greatly improve that CPARS process.  Sandra concludes, "The marketplace is going to be using AI to actually mine the data, but the idea of the marketplace will be available government wide, and industry wide as well."
What Recommendations Does the PIL have for Others Adopting New Technologies?
The CPARS experience taught PIL staff to embrace rather than fear new technologies. Implemented correctly, AI does not replace human thought and decisions, but rather augments and facilitates a person's ability to make those decisions.  And AI, or adoption of any other new technology, should start with the user's perspective on what problem needs to be solved and research into how users will interact with technology – both key elements of agile approaches to modernization, as is the PIL's reliance on iterating development in small phases to test and learn from both success and failure with reduced risk with support from top leadership.  The PIL approach also capitalizes on private sector innovation through partnership, rather than being constrained by perceptions that the procurement process has to limit such interaction during ideation and pilot phases.
Sandra talks about the Coast Guard's adoption of new technology to reinforce these points:
A year ago; the Coast Guard was buying one of their first ever software as a service product. Now that may not be a very big deal for most agencies, but for them it was one of the first, and they were very concerned, they were worried about making the right award. They chose to use flexibilities in the FAR: they asked companies to actually provide an in person product demonstration, they engaged in interactive dialogue during that product demonstration. Instead of doing a firm down select where they kicked companies out after each phase, they did an advisory down-select process where they advised companies on how competitive they were and let the company decide.
Once the procurement concludes, PIL staff contact all successful and unsuccessful offers for feedback.  They find that industry often welcomes such a discussion, and the PIL has found support for advisory down selects and oral presentations.  In the end, the PIL's open-door approach has been successful in building an intelligent automation strategy that can be applied to other programs and agencies.
For more opportunities to learn about intelligent automation in government, there are communities of interest in government, industry associations that people can join. The American Council for Technology and Industry Advisory Council has an artificial intelligence community. The General Services Administration on the civilian side has an AI community of interest as well and other communities that are focused on RPA, in blockchain and other elements of Intelligent Automation suite.  And the IBM Center and the Partnership have issued multiple reports and issue briefs for government, which can be found at www.businessofgovernment.org/reports.