Submitted by

rthomas

on Thu, 01/25/2018 - 10:58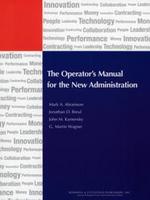 Thursday, February 28, 2013
The Center completed the updates for the Operator's Manual for Administration officials, incorporating lessons learned since the last printing.
Four years ago, the Center for The Business of Government released "The Operator's Manual for the New Administration."  This report provided practical insights on how to make agency operations work more effectively, drawing on the first ten years of reports from the Center to draw lessons learned in areas ranging from leadership to money to technology to collaboration.  The insights were written in the form of memos to individual leaders who come into government and need to make its wheels turn to accomplish their objectives. 
As part of our "Governing in the Next Four Years" series, the Center updated each chapter of the Operator's Manual to account for lessons learned over the past four years of research – these updates provide a short summary and relevant new material for each memo, and link to the original guide, which remains available at our website.
We hope that this online, renewed compendium will prove useful to the government executives to whom the first Operator's Manual was dedicated, in the renewed hope that the manual will help them succeed.
Our updated chapters are included below:
You may read the original chapters of the Operator's Manual.