Submitted by

rgordon

on Mon, 07/10/2023 - 11:27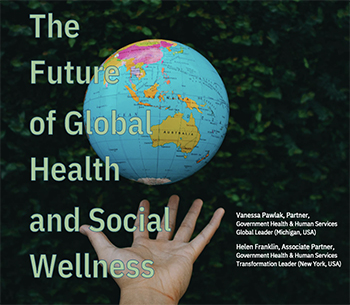 Wednesday, August 2, 2023
By 2040, healthcare and social systems of care will be radically different than what governments see and use today. A new report outlines future health scenarios.
Multiple factors are converging rapidly to drive necessary transformation in health care across the world. Three key factors drive transformational change:
First, the public demands personalized care more than ever before.
Second, modern technology can finally deliver on the promises of the past.
Third, massive funding coming off the heels of the pandemic can sustain the transformation.
The amount of federal capital injected into local, state, and provincial government economies is unprecedented in many parts of the world, with the use of the word "trillion" becoming everyday vernacular. The money allocated to health and social programs and enabling technologies will help governments to redesign service systems, build resiliency, and reimagine a better future of health and well-being for their constituents. The funding and transformation will lead to a fully integrated "Health and Social Wellness Continuum."
The "continuum" will integrate all aspects of traditional healthcare, including mental-behavioral care, and most importantly use "social determinants of health" – the key to obtaining a full picture of a person's current state of wellness. These include such elements such as housing, employment, education, level of isolation, food, and healthcare.
In aggregate, the collective wellness of individuals frames overall population wellness – society's highest goal. In turn, population wellness can only be achieved by understanding whole person care as derived by an individual's current state health and social well-being. Thus, meeting national care needs requires helping people who require varied personalized care needs – both of which data can show, and technology can capture.
Pre-pandemic, health and social care systems were at a breaking point that in many cases collapsed with the onslaught of the pandemic. Health systems infrastructure in many nations has been outdated for decades. Even after the technology explosion and dot-com boom of the 1990s, those nations still live on 20th century systems. For example, the United States' social safety net, including the government health program Medicaid, consists of multiple systems implemented in the late 1970s that have yet to be replaced. Systems such as these are latent, slow, and analog, and quite literally cause access to care issues for people in need.
Given how the pandemic overloaded numerous social systems, more and more people fell into social safety net programs due to job loss causing housing disruption. This caused a spike in usage of healthcare fallback programs, such as U.S. Medicaid, India's PM-JAY program, and many others, leading to massive  and undue disruption from addressing key social determinants of health.
Trying to quickly adapt government ecosystems is no small feat, and government failed to handle this disruption effectively. Government ecosystems are among the most siloed environments of any industry, due to budget constraints, policy divisions, and inherent complexities and rules different than any other industry, i.e., the "red tape of bureaucracy." Moreover, governmental systems are typically the last to digitize, often lagging behind private and commercial public companies. Organizations with the most digital advancement fared better against a negative impact of the pandemic than the organizations with more outdated manual operations, common with governmental entities.
These disruptive forces exploded into a perfect storm when broken government health and social care systems were expected to manage the largest surge in patient health and citizen social care needs in human history. Technology was woefully unprepared and lacked basic interoperability, providers were burned out, hospitals hit capacity, resources were scarce, and demand for services rose. Even pre-pandemic, people around the world were experiencing more sicknesses that were more costly over time, with mental health and illness on the rise; as a parting gift, the pandemic left many people with residual and unresolved mental stress, which is now at an all-time high.
Our new report, "The Future of Global Health and Social Wellness," focuses on many of these individual yet intermingled topics and provides key takeaways. As stewards of wellness and the wellness of the global population, government's emphasis on adapting emerging technologies needs to be aligned with individual and collective actions.  Such actions include the rapid speed of technology focusing on various elements of whole person care that allows for informed choices by individuals and communities alike. These actions also involve innovative policy change, paired with equitable funding across nations and global agreements to equalize data integration design, which is needed to meet the direction that the world is headed.
Finally, the use and stewardship of the data that feeds those informed choices is paramount – how the data is used, especially by government entities, is just as important as data security. How governments serve the public will be powered by data that drives the forefront of the next frontier in health care management. The data will enable health care choices today that direct the evolution of how actions around that data can best serve people across the world.