Len Bastien grew up in Charlottetown, Prince Edward Island and received a Bachelor of Science from the University of Prince Edward Island in 1991. He served with the Canadian Armed Forces in the late 1980s as a reservist with the local Armoured Reconnaissance Regiment (PEIR) until the early 1990s. He moved to Ottawa to begin graduate studies at Carleton University, met his wife and settled in the National Capital Region.
Most of his professional career has been spent in the information and telecommunication technology field. In the private sector, as Director of Consulting Services for Enterprise Outsourcing at CGI Ottawa, he was responsible for the overall management, growth and profitability of the Enterprise Outsourcing program.
In April 2007, Mr. Bastien joined the Federal Public Service, serving initially at National Defence as Director of the Information Management Service Transformation and then as Director General (DGIMST), leading the division in the strategy and planning for further discovery and alignment of a rationalized Defence IM/IT Program.
After a brief term as the Executive Director IT Infrastructure, Operations and Security, Department of Fisheries and Oceans, Mr. Bastien returned to National Defence in March 2011, where he was appointed Director General Information Management Technology (DGIMT). A year later he assumed the role of Assistant Deputy Minister (Information Management) and Chief Information Officer.
Len Bastien is the Defence Champion for Persons with Disabilities, a role he takes very seriously. He also volunteers on the Board of Directors for Valoris, a Family Resources Organization in Eastern Ontario. His many outdoor activities demonstrate his commitment to a healthy work/life balance.
* * * * *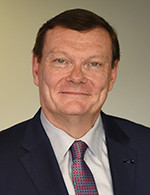 Former CIO, U.S. Department of Defense
Terry Halvorsen is a Vice President within IBM's federal group. He was formerly the CIO of the U.S. Department of Defense and previously served as the Acting Department of Defense Chief Information Officer. Prior to that, he was the Department of the Navy Chief Information Officer. As DoD CIO, Mr. Halvorsen was the principal advisor to the Secretary of Defense for Information Management / Information Technology and Information Assurance as well as non-intelligence space systems; critical satellite communications, navigation, and timing programs; spectrum; and telecommunications. He provided strategy, leadership, and guidance to create a unified information management and technology vision for the Department and ensured the delivery of information technology-based capabilities required to support the broad set of Department missions. Before serving as the Department of the Navy CIO, Mr. Halvorsen was the deputy commander, Navy Cyber Forces. He began serving in that position in January 2010 as part of the Navy Cyber reorganization. Previous to that, Mr. Halvorsen served as the Deputy Commander, Naval Network Warfare Command. He was responsible for providing leadership for over 16,000 military and civilian personnel and supporting over 300 ships and approximately 800,000 globally dispersed computer network users. In this position he was responsible for the business performance of Navy network operations, space operations, information operations and knowledge management. Mr. Halvorsen served as an Army intelligence officer in a variety of assignments, including Operations Just Cause and Desert Storm. He holds a bachelor's degree in history from Widener University, and a master's degree in educational technology from the University of West Florida. He is a Rotary International Paul Harris Fellow and an Excellence in Government Leadership Fellow.