Submitted by

rgordon

on Wed, 01/13/2016 - 06:48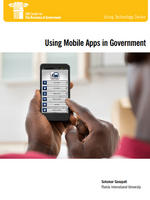 In less than a decade, the way Americans communicate has changed dramatically.
More than 90 percent now own a cell phone, and three-quarters of those are smartphones. Mobile apps—first introduced in 2008—have become an essential tool for commercial services, such as music, weather, and shopping. In fact, the average smartphone user has about 40 apps on their device.
Apps are increasingly becoming an essential tool for how citizens interact with their government. Government-created or supported mobile apps offer a wide range of opportunities for delivering services, such as finding parking spaces and paying for them, as well as engaging citizens in co-producing services, such as reporting potholes and damaged streetlights. Creative ways of using mobile apps for government continue to multiply, as can be seen through the many examples described in this report.
In this report, Dr. Ganapati documents the state of mobile apps at the federal, state, and local levels. He offers insights to government leaders on where trends are headed and which strategies government organizations might employ to both better serve and engage citizens, and their own employees, in the mobile world ahead. The report focuses on two types of apps which governments at all levels are now developing:
Enterprise-focused apps aimed internally to improve a government organization's mission efficiency and effectiveness
Citizen-oriented apps aimed to foster real-time public engagement for innovative services.
He concludes with three recommendations on the need to standardize data, data formats, and data standards that, he believes, will help further the growth of the use of mobile apps in government in years to come.
We hope this report serves as a useful overview of mobile apps, as well as an inspiration to leverage the use of mobile apps in the service of better government.
Report published 2016.
Read the article in Federal Computer Week.
Read the article in GovExec.
Read the article in FierceGovernmentIT.
Read the article in Government Computer News.