Submitted by

rgordon

on Wed, 10/23/2013 - 11:55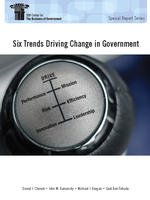 The IBM Center for The Business of Government has looked across our interactions with government leaders and stakeholders, as well as the considerable work and thinking of our authors, to identify a set of trends that will drive change in government.
Today, government is in the midst of significant changes that have both near-term consequences and lasting impact. Such changes become more complex in nature and more uncertain in effect. At the same time, the demands on government continue to grow while the collective resources available to meet such demands are increasingly constrained. Government leaders, managers, and stakeholders face major challenges, including: fiscal austerity, citizen expectations, the pace of technology and innovation, and a new role for governance.
These challenges influence how government executives lead today, and, more importantly, how they can prepare for the future. To understand how government executives can move forward most effectively, the IBM Center for The Business of Government has looked across our interactions with government leaders and stakeholders, as well as the considerable work and thinking of the many outstanding authors of Center reports in recent years, and has identified a set of trends that correspond to these challenges and drive change in government. These trends—both separately and in combination—paint a path forward in responding to the ever-increasing complexity that government faces today and into the future.
These trends include:
 
Performance. New laws, policies, technologies and techniques are changing how government improves performance by:  creating a performance culture, providing incen­tives to use performance data to act, and enhancing the role of evidence-based approaches in decision making.
Risk. Risk takes on many forms: national security, economic, budget and program, and privacy.  However government leaders lack an accepted culture and framework to properly manage, incorporate, and communicate risk as part of program operations. 
Innovation. Government executives must be able to articulate the value of innovation within their agencies, align innovation efforts to agencies' mission, and tap into innovators beyond government.
Mission.  Mission support functions have professionalized and centralized in recent years, but they need to be sure to align with mission delivery leaders in order to add value.
Efficiency.  The visible results of efficiency are best fostered via transparency in current costs and their ability to document and retain savings to continue mission achievement.
Leadership.  Successful government leaders must go beyond established parameters and institutional strictures, working across organiza­tional boundaries in pursuit of multilayered, networked approaches tailored to a spe­cific challenge.

We invite you to read the complete report, download a particular chapter (upper left-hand side of page), watch a video overview (see below), or contribute to our blog as we delve into each trend over the next six weeks.
Focusing on these six trends has the potential to change the way government does business. The Center will fund research into each, exploring in-depth their transformative potential. By sharing knowledge and expertise gained from this research, we hope to spark the imagination of government executives beyond their day-to-day urgencies and toward solutions to the serious problems and critical challenges that government faces now and into the future.
ABC News Government Matters interviewed Dan Chenok on the report.  Watch his video overview.