Submitted by

rgordon

on Wed, 11/07/2018 - 11:54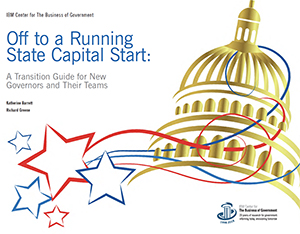 In many states, a new governor has just been elected—in 2018, 17 current governors did not run for reelection in November, while 36 states held gubernatorial elections. Next comes the hard work for governors and their teams of delivering results for citizens. Yet, gubernatorial teams have a short span of time in preparing to take the reins in their state capitals.
This report provides three sets of lessons from Katherine Barrett and Richard Greene, a pair of veteran observers of state and local government management, to help gubernatorial teams move quickly and set the stage for a successful term in office:
Leverage state government's existing executive talent
Treat state government as an integrated enterprise
Organize decision making to achieve results
These lessons are based on the authors' nearly 30 years of experience in reporting on state governments as well as a set of reports developed in 2016 for the upcoming presidential transition, prepared by the IBM Center for The Business of Government in collaboration with the Partnership for Public Service.  A basic message emerged that has relevance at all levels of government: prioritizing good management early in the tenure of a new administration helps achieve positive results quickly, while a lack of management focus can derail successful implementation.
Read our blog about the report.