Submitted by

rgordon

on Wed, 08/26/2020 - 14:05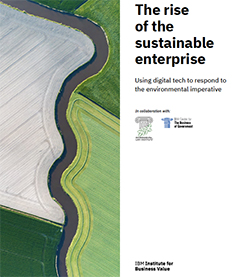 Using digital tech to respond to the environmental imperative.
This report finds that sustainability is no longer just a social responsibility (CSR) issue—it's an organizational imperative for business and government enterprises. Opportunities and risks related to the environment now challenge the strategies and operating models of organizations across all sectors and functions. In fact, environmental choices, as a subset of a broader sustainability agenda, increasingly define strategy for leading organizations.  
This is becoming especially apparent from the response and recovery around COVID-19, which has made clear the speed at which developments can spread across the entire world with global economic impacts. No longer can "environmental issues" remain a discrete set of concerns – they are core to the strategic focus areas of public and private sector organizations.  According to the World Economic Forum's Global Risk Report 2020, the top five business risks were linked to environmental challenges, including extreme weather and climate action failure.  The general public has also become much more environmentally conscious.
As the report notes, digital transformation can help make the difference in achieving environmental objectives. Exponential technology innovations unavailable to previous generations—artificial intelligence (AI), 5G, Internet of Things (IoT), cloud, blockchain and others—will accelerate this progress in three ways. These emerging innovations can allow companies and governments to capitalize on data and gain new insights that underpin new solutions to current challenges. Applying these technologies can support greater public, private, and not-for-profit collaboration to forge a new governance model for the environmental imperative.  As the authors describe, they can transform business practices and drive the emergence of the "Sustainable Enterprise." 
Taking these challenges and opportunities into account, the report concludes by recommending that sustainable enterprises can incorporate digital transformation into their environmental sustainability strategies and actions, and can transform business processes into "green" intelligent workflows driven by emerging technologies. 
We continue to engage with experts and evolve our research into this critically important intersection of digital technology and environmental sustainability, and how public and private sector organizations can collaborate to drive improved outcomes, for their customers, economies, and societies.