Submitted by

rgordon

on Thu, 10/10/2019 - 09:09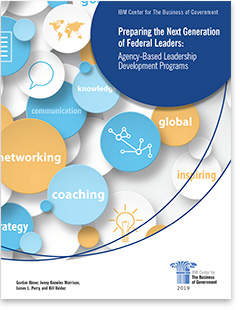 Leadership plays a critical role in successfully executing the mission of government.
Successful leaders envision, shape, and safeguard the future, creating clarity amidst uncertainty. This objective is increasingly difficult in an era where rapid, unforeseen change seems constant. Agencies face serious public management challenges that go to the core of effective governance and leadership, requiring innovation, collaboration, flexibility, and understanding of the capacity needed to tackle complex, non-routine challenges. Given these challenges, leadership development programs can lay a foundation for skills that current and future executives can leverage to anticipate and respond to future opportunities and risks.
In this new report, Preparing the Next Generation of Federal Leaders: Agency-Based Leadership Development Programs, a team of expert authors—Gordon Abner, Jenny Knowles Morrison, James L. Perry, and Bill Valdez—focuses on how best to build programs that can shape and inform future government leaders.
The authors analyze the performance and efficaciousness of agency-based leadership development programs, which ensure that leaders understand trends affecting their jobs, such as risk management or cybersecurity; such programs prepare future leaders for the rigors of driving action across the federal government's $4.4 trillion enterprise that touches the lives of all Americans daily. The depth and breadth of current agency leadership programs vary widely, inhibiting systematic development of tomorrow's government leaders.
The report explores five core topics: 1) factors that enable a sustainable agencybased leadership development program; 2) system-level challenges to creating and operating such programs; 3) training and development strategies that have had the most success in the federal government; 4) transferable lessons learned from exemplary agency programs; and 5) ways to demonstrate programmatic return-on-investment (ROI). The report underscores that federal organizations can mount successful leadership development programs, and that the effective practices they have identified provide excellent guides across all facets of the leadership development cycle—enabling government executives to tackle problems with fresh ideas and energy.
This report builds on the Center's extensive research into federal leadership. Previous Center reports have explored how particular leaders have responded to public management challenges they faced running a government program or agency. These reports, as well as the many leadership interviews and profiles produced by the Center, focus on telling a leader's story, outlining experience, and sharing insights. We trust that this new report will be a useful and informative guide for efforts to build the next generation of government leaders.
Download our infographic on the report.
Read the article, "Report Describes Challenges in Leadership Development" in FEDWeek.
Read the Federal Times article, "A call to action: developing the next generation of federal leaders."