Submitted by

rgordon

on Mon, 02/14/2011 - 10:08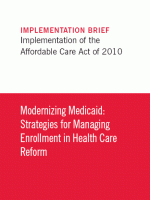 This Implementation Brief focuses on the process of identifying eligible enrollees and presents six promising practices for enrolling more people.
The Brief is published at a time when states are grappling with how to reduce spending on Medicaid. In the face of significant budget shortfalls, some states are proposing to drop hundreds of thousands of low-income adults from Medicaid.

The term of art is "implementation," but that doesn't begin to capture the many issues that will arise as the government transforms the Act's promise into practice. How do we make sure that those tasked with implementing the reforms and with delivering health care more effectively are able to accomplish what the new legislation demands of them?
This Implementation Brief seeks to contribute to the discussion about the Act's implementation. We welcome your comments and look forward to a lively conversation.