Submitted by

rgordon

on Thu, 02/20/2020 - 11:00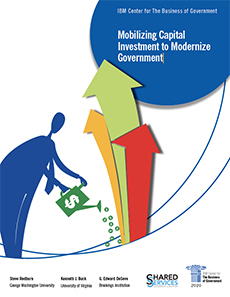 Many governments around the world seek ways to serve their constituents and carry out their missions more effectively and with greater efficiency. This imperative takes on even greater import as emerging technology and business paradigms raise expectations from the public and enable new channels of collaboration between government and industry. In an environment of public sector resource constraints, opportunities to leverage private sector investment, technology, and expertise become more critical—as do strategies to ensure that such leverage is done consistent with protections against improper use of Federal funds on behalf of taxpayers.
The U.S. federal government has moved forward in addressing this imperative over the past several decades. The Office of Management and Budget (OMB) has worked with agencies to develop several shared services initiatives that seek to apply commercial best practices across government; numerous innovations in acquisition have been authorized and implemented; and industry has joined in multiple forms of public-private partnerships modeled on similar collaborative efforts in state and local governments. Also recent budget innovations have brought flexible investment approaches for technology, and proposals to do the same for Federal buildings.
This progress has evolved episodically, lacking common frameworks, norms, or incentives that could promote consistency in how government can attract investment to modernize technology and processes. As public sector funding constraints continue to be impacted by rising deficits and debt, agencies can benefit from more systematic paths for the private sector to invest capital in modernizing government operations, and from processes for making the most effective use of public and private investment dollars over time.
This report, written by three former leaders in government, identifies strategies for Federal agencies on how to mobilize capital investment for government modernization. The authors also discuss options and recommendations for revising budget and acquisition processes that have tended to limit systematic engagement with industry around investment, such as with shared services, and to discourage longer-term capital planning by government. At the same time, the report makes clear how such recommendations can be done consistent with important safeguards in appropriations, budget scoring, and procurement processes—safeguards rooted in longstanding law and policy.
Read our blog and view our infographic on the report.
Listen to author Steve Redburn answer questions about the report on Federal News Network's Federal Drive program with Tom Temin.