Medicaid Expansion Under Health Care Reform: Promising Approaches to Managing Care for People with Complex Medical Needs
Submitted by

rgordon

on Tue, 04/12/2011 - 13:43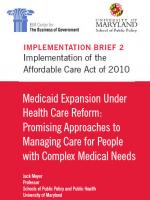 Now that health care reform has been enacted, people have begun working on the details of implementing the new law.
The University of Maryland School of Public Policy and the IBM Center for The Business of Government are collaborating to offer a unique voice on the major implementation issues surrounding health care reform.
The Implementation Brief series is based on two key premises:
The battle of the passage of health care reform was just the prelude to even bigger implementation battles to come.
Making health care reform work is the next great frontier, and we all have a vested interest in understanding the complicated process of turning legislation into a national program that is implemented in a way that works for all.
This Implementation Brief, Medicaid Expansion Under Health Care Reform: Promising Approaches to Managing Care for People with Complex Medical Needs, is the second in a series of reports exploring a number of the most formidable and important challenges facing states and the federal government as they implement the Affordable Care Act. The first Implementation Brief, Modernizing Medicaid: Strategies for Managing Enrollment in Health Care Reform, presented several new approaches to identifying and enrolling people in Medicaid and CHIP, which is an important goal for the Medicaid expansion scheduled
to begin in 2014. This Implementation Brief is the next step in the sequence of challenges related to Medicaid expansion. It presents promising approaches to managing the care of people who will newly enroll in Medicaid and have complex medical needs.
A third Implementation Brief will address another very important challenge: How states and the federal government can best prepare to build and operate Health Insurance Exchanges. These exchanges, which will offer a wide choice of private health plans and sliding scale federal premium subsidies for millions of Americans, are also scheduled to launch in 2014.
This Implementation Brief seeks to contribute to the discussion about the Act's implementation. We welcome your comments and look forward to a lively conversation.