Submitted by

rgordon

on Wed, 05/06/2020 - 10:00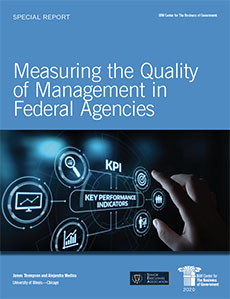 A perennial question about government involves how well agencies manage their mission.
How well are federal agencies managed?  Currently, no commonly accepted framework exists to assess the quality of agency management. In this special report, University of Illinois—Chicago authors James Thompson and Alejandra Medina take on this question.
Starting with a series of interviews with seasoned federal executives and other management experts, they explored ways that private industry and other countries have approached this question. Based on their research and a workshop with experienced federal leaders, they define six key building blocks that could serve as a foundation for designing and implementing a governmentwide initiative to measure the management quality of federal agencies.
Additionally, the Senior Executives Association is sponsoring a Task Force to tackle some of the design questions identified by Thompson and Medina.  The Task Force will be headed by Dr. Noha Gaber and other charter members drawn from the ranks of current and former government executives and several academics who have volunteered in their personal capacities to participate. 
Read the press release by the University of Illinois Chicago.
Watch the interview with John Kamensky on Government Matters.
Read the article, "Many Agencies Aren't Ready to Manage in a New World," by Government Executive.
Read the article, "IBM, SEA Release Special Report on Measuring Management Quality, Announce Task Force on Assessing Management Quality" in FEDmanager.