Submitted by

rgordon

on Tue, 10/25/2011 - 14:15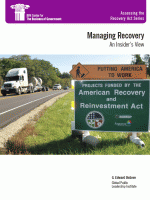 DeSeve identifies seven primary lessons from implementation of the Recovery Act.
The American Recovery and Reinvestment Act of 2009 (Recovery Act) was passed on February 17, 2009, providing $787 billion of tax benefits; grants, loans, and contracts; and entitlements in more than 250 appropriation accounts across more than 25 federal agencies. President Obama assigned the overall management responsibility for the program to Vice President Biden, who acted swiftly to create a management structure that relied on innovative processes and technologies. The author of this report, G. Edward DeSeve, served as the Implementation Coordinator with three titles: Special Advisor to the President for Recovery Implementation, Assistant to the Vice President, and Senior Advisor to the Director of the Office of Management and Budget.
Based on his experience, DeSeve identifies seven primary lessons from implementation of the Recovery Act:
Attention from the top matters.
Transparency minimizes fraud.
Financial information can be transmitted in an almost real-time environment.
New technology enables direct reporting.
Geospatial mapping makes data more understandable.
Collaboration through networks was essential.
The Recovery Act provides a template for agency planning in the future.
Then, in a particularly intriguing conclusion, DeSeve suggests how government leaders can address future major challenges on the scale of the Y2K crisis, Hurricane Katrina, or the SARS epidemic.
DeSeve offers guiding principles for how to successfully meet future challenges when acting on big problems.
The Federal Times writes about this report!