Submitted by

rgordon

on Fri, 01/14/2011 - 12:13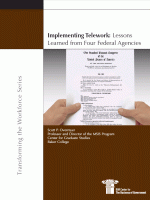 This report offers practical implementation advice to agency leaders and front-line managers faced with implementing the newly-enacted law expanding telework opportunities to over one million federal workers, "The Telework Enhancement Act of 2010."
This report offers practical implementation advice to agency leaders and front-line managers faced with implementing the newly-enacted law expanding telework opportunities to over one million federal workers.

Telework has been touted as being a winning strategy for government.  A study by the Telework Research Network claims potential savings for the federal government of nearly $3.8 billion as a result of reduced real estate costs, electricity savings, reduced absenteeism, and reduced employee turnover.

Dr. Overmeyer describes the technological, social, operational, and management risks that face managers in implementing a telework strategy.  He then shows how four cutting-edge federal agencies have addressed these issues and have successfully implemented a telework initiative.  Understanding the practical challenges, and steps some agencies have already taken in piloting this approach, will be important as government leaders face the six-month implementation timeframe required under the recently signed legislation.