Submitted by

rgordon

on Wed, 05/08/2013 - 12:05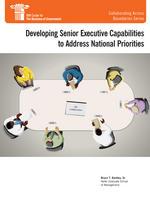 This report is intended to spark a discussion of how to create a cadre of experienced career senior executives who can lead major, cross-agency initiatives on national priorities
This report is intended to spark a discussion of how to create a cadre of experienced career senior executives who can lead major, cross-agency initiatives on national priorities. The Senior Executive Service (SES) corps today is chiefly composed of highly skilled professionals in specific mission functions, with relatively few having cross-agency expertise.
Recent trends in government have created a new demand for cross-agency capabilities. This report attempts to offer a practical, targeted approach for meeting this demand. It is divided into two parts:
The first part assesses the creation of a subset of experienced SES members who would be designated government-wide cross-agency leaders, and would take on assignments involving multiple agencies focusing on common goals.  These executives would be part of a new corporate executive management office under the direction of the President's Management Council or another governmentwide sponsor such as the Performance Improvement Council.
The second part is a case study of how the Department of Veterans Affairs created a corporate senior executive management office to more effectively develop, manage, and deploy its senior executive corps department-wide.  This approach could be adapted either as a governmentwide effort or by other major federal departments.
Listen to Mr. Barkley's interview on Federal News Radio.