Submitted by

rgordon

on Wed, 02/10/2021 - 10:24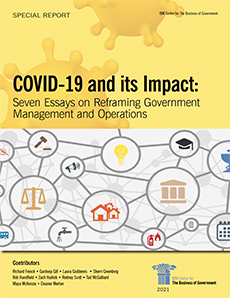 In fall 2020, the IBM Center for The Business of Government initiated a Challenge Grant Competition soliciting essays from academics and practitioners describing how government can best transform the way it works, operates, and delivers services to the public in light of the impact of this pandemic.
In re-framing government management and operations, this compendium of seven essays highlights several key themes:
Changing the nature of work focuses on government jobs best suited to shift virtually, the new "workday," best practices, government as a model workplace, and workplace health, safety, and privacy.
Reimagining how government delivers services and products to the public explores ways to improve operational effectiveness by addressing engagement, equity, and culture in government service delivery.
Managing risk and building resilience focuses on building supply chain resiliency making them immune to unpredictable shocks, emphasizing the critical importance of managing risks and vulnerabilities effectively while also identifying principles that fosters trust in institutions and how they operate in times of crisis.
We hope that government leaders and stakeholders across the country and around the world find the insights in this special report helpful as they adapt changes necessitated by the COVID-19 pandemic into their longer term operations.
Listen to an interview with Tom Temin and Michael Keegan on Federal News Network.
Read the article in Government Executive!