Submitted by

rgordon

on Sun, 09/23/2012 - 11:25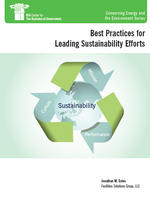 Executive Order 13514 outlines leadership efforts the federal government can make to reduce energy consumption and lower greenhouse gas emissions.
Federal agencies are required to develop strategies, implement and report on projects, and continuously improve their processes as a model for the country. The Executive Order significantly increased the visibility of sustainability as a strategic imperative for the federal government and beyond, while potentially saving energy and taxpayer money. Given the somewhat broad and vague definitions of sustainability, some agencies may check the compliance box rather than take advantage of the full array of potentially cost-saving and performance-increasing benefits.
This report:
Examines the sustainability processes of three organizations, two private and one public
Identifies three recommendations that demonstrate the critical success factors for meeting sustainability compliance
The purpose of this report is to provide practical, timely best practices for public-sector stakeholders and leaders based on independent research from representative organizations. The three case studies were selected because of their long history and continued commitment to sustainable practices and the relevance of their business model for federal agencies as they develop and implement their sustainability plans.

Jonathan Estes's report complements recent IBM reports and articles:  Implementing Sustainability in Federal Agencies: An Early Assessment of President Obama's Executive Order 13514, by Daniel J. Fiorino, and Analytics and Risk Management: Tools for Making Better Decisions, by Michael J. Keegan.
All of the above reports focus on using better measurement tools for making strategic decisions. These reports together provide a comprehensive spectrum of insights and practical steps derived from best practices in the development and implementation
of sustainability strategic plans. They can help managers meet mission goals at the local, state, and federal levels.