Assessing the Past and Future of Public Administration: Reflections from the Minnowbrook at 50 Conference
Submitted by

rgordon

on Thu, 09/19/2019 - 06:40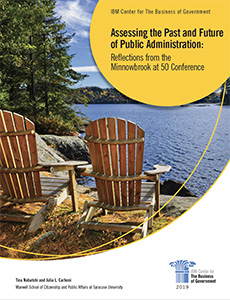 The field of public administration has contributed significant insights that have informed practice, research, and teaching for many years.
Government leaders rely on expert analyses from academia to help them understand their impact on the citizens and nations they serve. Scholars advance the profession through their writings and dialogues. Students benefit by learning about the influences on and the outcomes of public sector action in a way that helps build a future workforce. Understanding how public administration has evolved in the past can help all stakeholders to address challenges and capitalize on opportunities that matter for all stakeholders in this diverse profession.
The Minnowbrook conferences, hosted periodically over the past 50 years by the Maxwell School, have reflected major milestones in public administration. These sessions have brought together a range of experts to discuss and debate how research and teaching can best contribute to a vibrant public sector, as well as how the field should address larger social and economic challenges facing nations and the world. The conferences address questions of high relevance today, such as:
How should schools of public administration balance a focus on broad societal goals with the need to understand and teach empirical frameworks to students who will become tomorrow's government officials?
How can new technologies improve the productivity of researchers and the performance of practitioners?
How can the field best reflect diversity of thought and experience that provides for rich and varied content, reflecting the realities of the world served by the public sector?
These and many other key questions contributed to the agenda of the "Minnowbrook at 50 Conference." In this report, the conference organizers recap the Minnowbrook at 50 discussions, summarize insights from participants and from specific expert groups that formed during the conference, and present relevant issues and recommendations that inform general progress on the professional and academic sides of public administration.
This report builds on the Center's longstanding interest in strengthening the linkages between research and practice for the public sector. Most of our 350 reports over the past twenty-one years apply analyses and recommendations from academic experts into actionable recommendations for government. This history is reflected in the 2018 book marking the Center's 20th anniversary, Government for the Future: Reflection and Vision for Tomorrow's Leaders, which assessed trends across government over the past two decades to develop scenarios for what government may achieve in the next two decades. These trends and scenarios would not have been possible without the careful research and impactful insights of hundreds of authors from the field of public administration. The import of this connection was reinforced by the recent introduction of the Government Effectiveness Advanced Research (GEAR) Center, which similarly seeks to link academic insights with public sector innovation.
We hope this report will spark discussion of the important role that public administration plays for government, scholars, students, and the world that they continue to shape.