Submitted by

rgordon

on Wed, 06/19/2019 - 09:00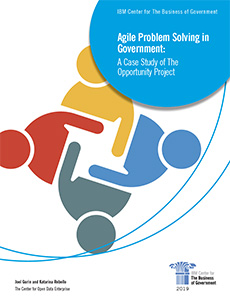 Across government, agencies face constant and often expanding levels of complexity in delivering on their mission objectives.
Citizen expectations, changing technologies, a mass proliferation of data, and new business processes are among the key external forces that challenge agencies to serve constituents in new ways.
At the same time, growing demands for fast response to problem solving reduce the time that agencies have for developing strategies that enable them to achieve mission objectives. In recent years, agile development has advanced in both industry and government as a method of designing software that builds functionality in rapid increments that involve both developers and users. Agile methodology is increasingly being used in non-IT efforts as well.
The Opportunity Project (TOP), a program run out of the U.S. Census Bureau at the U.S. Department of Commerce, has for several years served as a catalyst in adapting agile techniques to solve complex agency mission problems, through a process that brings together agencies, industry, and citizens. The Project's website refers to its goal as "a process for engaging government, communities, and the technology industry to create digital tools that address our greatest challenges as a nation. This process helps to empower people with technology, make government data more accessible and user-friendly, and facilitate cross-sector collaboration to build new digital solutions with open data."
TOP works with Federal government agencies to identify significant challenges, and then facilitates partnerships among agency leaders, industry and non-profit innovators, and citizen users to collaborate as teams in developing innovative approaches to address those challenges. The teams leverage agile techniques to build prototype technology and process solutions over a 12-14 week time frame, and then show their work to the public so that agency stakeholders from all sectors can learn from and adapt the solutions. TOP represents a unique, cross agency program that provides a model for how agencies can work with private sector partners to develop practical approaches to complex problems in an agile, iterative fashion.
In this report, Joel Gurin and Katarina Rebello outline the key elements and critical success factors involved in The Opportunity Project. Drawing insights from several TOP case studies, the authors provide lessons for other agencies, and indeed for governments at all levels, on how agile problem solving can enable public-private collaboration that helps address some of their most significant mission-focused issues.
This report continues the Center's longstanding focus on how agile techniques can help improve government. Prior studies on this topic include A Guide to Critical Success Factors in Agile Delivery by Philipe Krutchen and Paul Gorans, which was an early assessment of the promise of agile for the public sector; and Digital Service Teams: Challenges and Recommendations for Government by Ines Mergel, which provided insights into digital services activities that leveraged agile techniques for governments in the U.S. and around the world.
Review our infographic on the report.
Read the FedScoop article, "How federal agencies can use agile development to apply open data."
Watch our video overview: