Submitted by

MKeegan

on Fri, 09/10/2021 - 14:44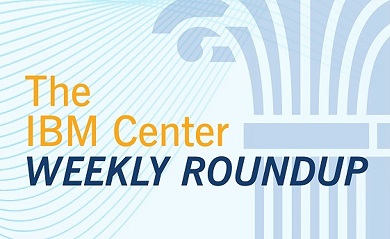 Friday, September 10, 2021
Highlighting articles and insights that we have found interesting for the week ending September 10, 2021
A Tuesday like no other: Feds recall shock of 9/1. Two decades ago, what began as an unremarkable Tuesday for federal employees quickly changed into an historic event like never before, and the country was never the same. Every agency was affected by the events of Sept. 11, 2001, and their workers impacted both directly and indirectly. Federal News Network asked readers who were in federal agencies that day to share their experiences of 9/11, in honor of the 20th anniversary on Saturday.
National Cyber Director Outlines Staffing Framework for 75-Person Office. By the fall of 2022, National Cyber Director Chris Inglis expects his office will be fully staffed and running toward four outcomes he described as being in line with the legislation that created his position. "We will probably staff out—the legislation called for a floor of about 75 people—turns out when you look at all of those functions and what's required to do those various things you get to about 75 people," Inglis said. "So I expect that by this time next year, we'll have, you know, a full featured kind of set of folks who are helping us get those things done working collaboratively with the other players in this space, both in the private and the public sector."
The Case for Building a Collaborative Intergovernmental System. In the 21st century, no significant public initiative fits entirely within one government agency or even one level of government, and our federal system presupposes that all levels of government have an important role to play in the democratic process. The National Academy of Public Administration has long supported improving the intergovernmental system. To address the current significant challenges facing the intergovernmental system, the Academy today announced the establishment of the Center on Intergovernmental Partnerships to help rebuild the collaborative capabilities necessary to develop and implement effective policies and programs across levels of government.
DoD wants transformational 2023 budget but will take some cuts to pay for it. The leaders of the military services are promising a transformative 2023 budget. The Pentagon spent the last few years building the foundation of a new military focused on near-peer competition with China and Russia and filled with prototypes of advanced capabilities aimed at keeping the United States' technological edge over its rivals. What the services are teasing at for 2023 is a realization of about five years of work to modernize the military and develop innovative capabilities that use artificial intelligence, man-machine teaming, hypersonics, long-range precision arms and other advancements.
OMB preparing agencies for three-year sprint to a new cyber standard. The Office of Management and Budget's draft zero trust strategy, released on Sept. 7, is bringing this cybersecurity approach together across government. "We didn't feel like there was a clear agency roadmap for them to follow," said Chris DeRusha, the federal chief information security officer. "That led us to take the approach that you see in the strategy that we've put out for public comment, where we're taking a phased approach organized around this as draft capability maturity model [from the Cybersecurity Infrastructure Security Agency], defining set targets for agencies over a three-year period to achieve a certain first level of maturity across all the zero trust pillars, and is designed to get agencies all moving in the right direction. We will support that with communities of practice, sharing best practices, surging technical support, where possible, and really just sort of learning from this first phase for us of a multi-year journey that we view this as."
How to approach a new leadership role. Leaders in new roles or companies must cultivate "a beginner's mind" -- confident in what you know but always ready to learn -- writes Scott Eblin. "Establishing early momentum and posting some quick wins will help create the space and grace you need to learn more about the things you don't understand yet," he writes. Eblin Group
8 tactics for successful productivity. Multitasking is not as effective as organizing yourself to perform one task well and then move to the next one, writes Naphtali Hoff, who offers eight tips. Pomodoro-style time blocks, deliberately tight deadlines and working according to your energy levels are just three of the tactics Hoff espouses. SmartBrief/Leadership
How to become "pressure ambidextrous". Pressure has three main types: "high importance, high uncertainty, and high volume," writes Michael McKinney in this review of Dane Jensen's "The Power of Pressure." The goal is to learn how to handle each situation's nuances, becoming "pressure ambidextrous" whether we're in the moment or grappling with longer-term bouts of pressure, Jensen writes. Leadership Now
What skills do visionaries need? Effective vision results from the value you'll create, seeing the future within the present and developing your skills as a visionary, writes Oleg Konovalov, who offers a handful of basic questions to start this journey. John Spence
A chaplain shares his journey of processing 9/11. Retired Army chaplain Terry Bradfield has grappled with disillusionment and trauma since being assigned to the Pentagon wreckage after 9/11, although he notes that people eventually move on and keep living. "You think about it occasionally, and if it's just you and the buddies, you'll talk about it and raise a glass to the memory of those that were lost, which helps you to then identify your particular losses and all of that," Bradfield says. Washingtonian
* * * *
Next Week on The Business of Government Hour: A Conversation with Gerard Baddorek, Chief Financial Officer, U.S. General Services Administration. What are the strategic priorities of the U.S. General Services Administration's Office of Chief Financial Officer? How has GSA's CFO transformed how the office operates? How can federal CFOs help promote automation and transformation? Join host Michael Keegan as he explores these questions and more with Gerard Badorrek, Chief Financial Officer at GSA next week on The Business of Government Hour.
Broadcast Schedule: The show airs Monday at 11 a.m., and Friday at 1 p.m. on Federal News Network 1500AM WFED