Submitted by

MKeegan

on Thu, 09/15/2022 - 23:26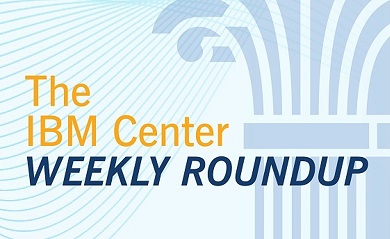 Friday, September 16, 2022
Articles & insights in public management and leadership that we have found of interest for the week ending September 16, 2022
Evidence Commission After 5 Years: A Progress Report on the Promise for a More Evidence-Informed Society.  This brief summarizes the progress to date, emphasizes areas where need for attention remains, and recognizes there is substantial variation across federal agencies in implementing many of the key recommendations of the Evidence Commission.
ONECISA: Collaboration, Innovation, Service, and Accountability: 2023 – 2025 CISA Strategic Plan. CISA releases its first comprehensive strategic plan that provides focus & guidance on the agency's efforts over the next three years to collectively reduce risk and build resilience to threats to the nation's infrastructure.
FAA again extends deadline for $2.4B IT services contract. The FAA has extended the deadline for companies to submit proposals for a 10-year, $2.4 billion IT services contract. Bids for the IT Innovative Procurement for Strategic Sourcing contract are now due to the agency on Sept. 29, according to solicitation documents. ITIPSS is a new multiple-award vehicle for the FAA that has drawn great interest from potential bidders, which altogether sent around 450 questions that the agency is still working to answer.
DoD Issues Updated Inflation Guidance for FFP Contracts. The Defense Department said on September 12 that it issued updated guidance for its contracting officers on approaches for addressing inflation under existing firm-fixed-price (FFP) contracts. The rate of inflation in the U.S. stood at 8.5 percent in July 2022, up from 7.0 percent in 2021, and just 1.4 percent in 2020.
NSA Plans for Full Post-Quantum Cryptography by 2035. The National Security Agency (NSA) expects National Security Systems (NSS) owners and vendors to start using post-quantum algorithms by 2035. To plan for that goal, NSA recommended that NSS vendors begin to prepare for upcoming post-quantum algorithmic requirements needed on classical networks that harbor sensitive data related to national security.
White House EO Adds Tech, Cyber to M&A Approval Screen . Technology and cybersecurity issues took a big step up today in the Federal government's process for approving foreign-buyer acquisitions of U.S. assets by adding several tech-related screens to the approval process under which the government can allow – or prevent – those acquisitions to be completed.
NEW: The final PMA Learning Agenda is here! Make sure to check out the first-of-its-kind govt-wide effort to address critical learning gaps that exist across govt. Our latest blog post also explains what's coming next.
NEW B&G Guide to Govs. Looking for info about #governors? @GreeneBarrett's website can help with a brand-new Guide to the Govs, including all sorts of details. Try it out now!
IBM Center Senior Fellow Margie Graves on @DailyScoopPod discussing cyber workforce strategy. The @ONCD is developing a talent strategy for the whole federal government and the whole cyber industry. Former Deputy Federal CIO Margaret Graves discusses what the strategy should include and any potential trouble implementing it.
Show up in these 5 ways to enhance leadership success. Top leaders always strive to show up at their best, prepared and aware that every situation could hold bigger opportunities than they may know about, writes Kevin Eikenberry. "Showing up with a positive expectation of both our performance and the result plays a big part in our success," Eikenberry writes. Leadership & Learning with Kevin Eikenberry
Use these questions to align strategy and tactics. Focusing solely on long-term strategy might make you overlook important short-term challenges, while concentrating only on tactics can leave your organization without a clear sense of direction, writes David Dye. Dye offers several questions leaders can ask to make sure they have both strategy and tactics in balance, including queries about the team's purpose and how success will benefit customers. Let's Grow Leaders
Ask these 3 questions when a crisis arises. Leaders are more effective during a crisis when they are listening to diverse voices from the boardroom to the front line and using that input to improve communication across the board, write Erika James, dean of the Wharton School of the University of Pennsylvania, and Lynn Perry Wooten, president of Simmons University. "How you fare in the next crisis, whether you fail to contain the damage or realize the opportunities to emerge more resilient than before, will depend on the agency of your leadership," they write. Harvard Business Review (tiered subscription model)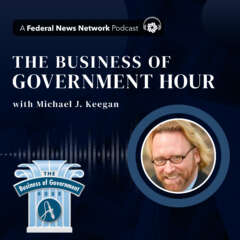 Next Week on The Business of Government Hour: A Conversation on Leading from the Future with
Mark W. Johnson
co-author with Josh Suskewwicz of
Leading from the Future:
How to Turn Visionary Thinking into Breakthrough Growth. How can we lead from the future? What is "Future-Back" Thinking? How can it help leaders navigate disruptions and lead with purpose? Join host Michael Keegan as he explores these questions and more on The Business of Government Special Edition.
Broadcast Schedule: The show airs Monday at 11 a.m., and Friday at 1 p.m. on Federal News Network 1500AM WFED
Anytime, Anywhere on...