Submitted by

MKeegan

on Fri, 10/08/2021 - 13:44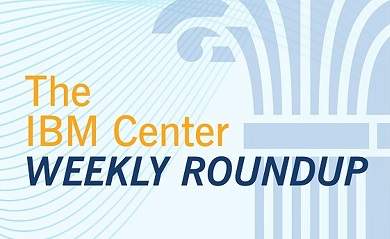 Highlighting articles and insights that we have found interesting for the week ending October 8, 2021
The Post-COVID Civil Service:  Dr. Donald F. Kettl joins discusses how federal service can change after the pandemic. The pandemic has brought to light many systemic problems in American governance and the civil service. Like other major disasters, the pandemic presents an opportunity to reshape the future of work in the federal service. Looking to the big lessons for COVID and beyond -- turns out that the quality of people in government matters most. Listen to the new podcast @ GovExec Daily: The Post-COVID Civil Service https://govexec.com/workforce/2021
Earning trust from others. Steve Kelman turns to an unusual source for IT leadership lessons -- an ex-CIA employee reflects on how to create trust from others.
CISA chief looks to new system to attract cyber talent. Despite increasing competition among the public and private sectors in hiring top cyber talent, CISA Director Jen Easterly said she has high hopes for a new personnel management system which reduces friction in hiring and offers new career paths.
IT spend expected to trend up, acting DOD CIO says. Rising IT and cyber budgets may lay ahead as the Defense Department moves forward with implementing zero trust architecture and begins relying more on artificial intelligence. Kelly Fletcher, who is currently performing the duties of DOD CIO, said that while there is room to be more efficient, the cyber domain may not be an area where flat budgets are the goal.
Survey: Federal IT workers say agencies are lagging with digital transformations. The majority of federal employees say digital transformations across government agencies are lagging in part due to cultural resistance to change and the inability of contractors to quickly implement initiatives, according to a new survey. The survey found 88% of federal employees working in technology or IT-focused roles say their agencies have fallen behind on modernization plans, while 73% of those surveyed say their agency lacks a clear vision for a digital transformation.
Intelligent Automation: The Impact of Artificial Intelligence and Emerging Technologies on the U.S. Federal Procurement Systems. GW Law Government Procurement Law Program offers a free, three-part webinar series on intelligent automation and emerging technologies in the U.S. federal procurement system. Experts from U.S. federal agencies, industry, academia and private practice will discuss the successes and challenges of implementing intelligent automation technologies as a means to improve the efficiency and integrity of government procurement processes. The webinars will be held on October 6, 13, and 20, 2021 at 12:00pm ET via Zoom.
New VA EHRM Cost Estimate to Take a Year. The VA's Electronic Health Records Modernization program has been under fire in recent months after two VA Office of Inspector General's reports revealed program missteps and underreported, unreported, or unknown program costs. In response, the VA pledged to provide a full lifecycle cost estimate of the program – which Congress wanted to see within 90 days – but a VA official said that the cost estimate will take at least 12 months to complete.
Increasing Threats in Software Supply Chain. The pandemic-forced shift to the cloud resulted in a growing number of high-profile supply chain attacks – and government and industry organizations alike are under threat. Palo Alto Networks' Unit 42 Cloud Threat Report reveals how bad actors infiltrate the cloud from the inside out and how organizations can reduce the risk of attacks in their cloud environment.
Leadership as service -- it's just common sense. Servant leadership attempts to take common sense principles and translate them into effective actions, starting with the strategy and following up with "service -- helping people accomplish the agreed-upon goals," write Ken Blanchard and Randy Conley. They offer several questions leaders use to assess how trustworthy they appear to colleagues and teams. SmartBrief/Leadership
The problem with tackling every problem. Strategically successful organizations know that they can't do everything, but the temptation to problem-solve can be quite strong, writes Jeremy Utley of Stanford University's d.school. Instead of jumping at every problem, consciously ignore it, look for other options or test multiple possible solutions against each other. Radical Candor blog
Worried? Do this before you panic. One way to quell worry is to think about whether your worries usually come true and, if so, how bad they really were, writes Frank Sonnenberg, who notes research suggesting over 91% of people's worries went unrealized. "If most of the things that people worry about never come to pass, pause next time -- before you send yourself into a panic," he writes. Frank Sonnenberg Online
Step into fear to experience a breakthrough. Big leaps in life don't happen by feeling secure but rather by "stepping into doubt, fear, and confusion," writes Dan Rockwell, who offers four things to try. "The greatest risk during breakthrough moments is the risk of doing nothing," he writes. Leadership Freak
4 leadership behaviors that destroy team trust. Leaders who are inconsistent, disrespectful or spring surprises on employees will be unable to build trust, writes Marlene Chism. "When the rules constantly change, or when there's a different standard for different people, employees lose faith in the integrity of their leader," she writes. SmartBrief/Leadership
* * * *
Next Week on The Business of Government Hour: A Conversation with Angela Evans, Visiting Fellow, IBM Center for The Business of Government. What are the principles of agile government? What are the new and emerging competencies required for agile public governance? How can agile principles and practices be taught in schools of public affairs and administration? Join host Michael J. Keegan as he explores these questions and more with Angela Evans, Visiting Fellow at the IBM Center for The Business of Government and Former Dean of Public Affairs at the LBJ School, University of Texas, Austin.
Broadcast Schedule: The show airs Monday at 11 a.m., and Friday at 1 p.m. on Federal News Network 1500AM WFED