Submitted by

Anonymous (not verified)

on Fri, 10/14/2022 - 13:50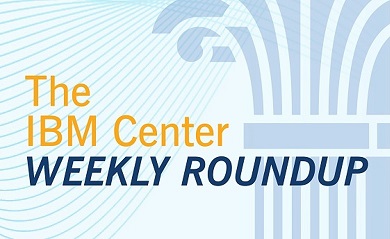 Articles & insights in public management & leadership that we have found of interest for the week ending October 14, 2022.
The Agile-Policymaking Frontier – Part 1 and 2. Prof. Larry A. Rosenthal, Goldman School of Public Policy, UC Berkeley discusses "agile policymaking" as a vehicle for better government and how agile would be more objective and evidenced-based when it comes to traditional policy analysis ("TPA").
VA adds 6 months to health record deployment pause. The rollout of new commercial electronic health record software to new locations at the Department of Veterans Affairs is on pause until June 2023. The VA had hoped to resume deployments in January, after years of recurring problems including system slowness, unexpected downtime, problems with scheduling and referrals and other issues. The delay is designed to give the Department of Veterans Affairs and Cerner Oracle more time to iron out serious performance issues in the multibillion-dollar software upgrade.
4 critical infrastructure sectors to get new cyber rules, per White House official. The deputy national security advisor for cyber and emerging tech said it should be up to sector-specific agencies to decide who should implement appropriate cybersecurity defense.
GSA, DOE look to the private sector for green building tech. The federal government is looking for ways to help commercial buildings transition away from their reliance on fossil fuels while aiming to achieve economy-wide net zero emissions by 2050.
GAO Cites Gains, Shortfalls in Federal Advanced Manufacturing Program. The Government Accountability Office (GAO) outlined some of the successes – and shortfalls – of a Federal government cross-agency program created to help reverse declining trends in U.S. advanced technology manufacturing in a recent blog posting. GAO explained that U.S. advanced technology manufacturing has been sluggish in recent decades, evidenced by imports of advanced technology exceeding exports – and giving rise to Federal government action to help address that trend.
Army Futures Command CDO Discusses Digital Engineering Maturity. Matt Benigni, chief data officer at the Army Futures Command (AFC), explained this week that he sees a path forward for further "maturity" in the organization's digital engineering standards and practices. Digital engineering comprises how the Army accelerates efforts to design and develop tools to help military personnel perform on the battlefield more efficiently. Benigni said that digital engineering maturity is likely to come at the enterprise level of technology services.
Feds Offer Steps to Address Cyber Workforce Shortfalls. The Federal Cyber Workforce Management and Coordinating Working Group has released a new report that lays out a multi-year strategy and implementation plan to address the shortfall of cybersecurity employees in the Federal government. The "State of the Federal Cyber Workforce" report highlights that the long-term health of the Federal cyber workforce is at risk from too many looming retirements, and too few new hires. The report finds that the cyber workforce now features less than six percent of employees who are under the age of 30, and 30 percent who are 55 or older.
10 questions to train your team in how you think. Leaders can use what Scott Eblin calls "perspective transference" to train their teams to "assess an opportunity, problem, or situation with the same kind of judgment and perspective that they would themselves and then act accordingly." Eblin offers 10 questions to ask to begin an ongoing dialogue that will create a more effective team. Eblin Group
5 rules to create effective one-on-one meetings. One-on-one meetings with direct reports are more effective when they have a clear purpose, active listening from leaders and end on a proactive note, writes John Schwepker, executive vice president of sales at Abstrakt Marketing Group. "Actions speak much louder than words, and maintaining a set schedule for one-on-ones lets your employees know you are serious about their success," Schwepker writes. SmartBrief/Leadership
4 core qualities of resilient companies. Markers of resilient companies include the ability to make agile, informed decisions, build teams that are self-sufficient, nurture leaders who can coach others in a crisis and see the importance in investing in top talent, write McKinsey partners Dana Maor, Michael Park and Brooke Weddle. "These companies prioritize leadership development and thus are driven by adaptable leaders who can facilitate the kinds of behavioral adjustments and mindset shifts required to be resilient in the face of change," they write. McKinsey