Submitted by

MKeegan

on Fri, 11/12/2021 - 13:17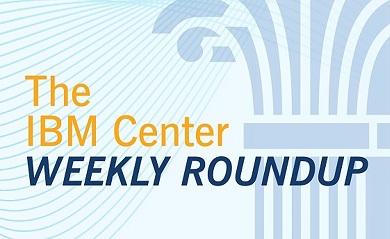 Friday, November 12, 2021
Highlighting articles and insights that we have found interesting for the week ending November 12, 2021
Governmentwide chat, calendar collaboration tools coming in 2022. Sometime in early 2022, federal employees will be able to check the calendar and chat with a colleague at another agency. No more emailing and hoping they will respond. No more playing calendar tag to try to find an agreeable time for a meeting. The CIO Council tested out this new collaboration capability during a nine-month pilot with four agencies, and now is ready to roll it out across the government. Maria Roat, the deputy federal chief information officer, spearheaded this pilot with a goal of not only proving it can be done, but creating a long sought-after capability.
Improving citizen services across government. Dan Chenok from the IBM Center for The Business of Government joins Francis Rose on Fedscoop giving insights from Federal Chief Information Officer Clare Martorana and General Services Administration Administrator Robin Carnahan illustrating the process of delivering citizen services changing across federal government. 
Federal CIO Clare Martorana and the future of work from ACT-IAC Imagine Nation ELC 2021. Federal CIO Clare Martorana's keynote speech at Imagine Nation: ELC 2021, highlighting the importance of the partnership between government and industry in improving customer experience for citizens. Former Deputy Federal CIO Margie Graves discusses what's next for agencies as they continue to plan what the future workplace looks like.
Easterly Applauds CVE Fix List Reaction. Cybersecurity and Infrastructure Security Agency Director Jen Easterly said that the agency's Binding Operational Directive issued earlier this month to Federal agencies to remediate against a list of 300 known exploited cyber vulnerabilities appears to be getting a good reception from government and industry as an effective roadmap on how to prioritize action against prevalent cyber threats.
DHS Probes Public Views on AI, Facial Rec.The Department of Homeland Security is collecting feedback and opinions regarding the use of artificial intelligence and facial recognition between now and December 6. The agency plans to use the feedback to better design and deploy related hardware and software, as well as improve the marketing of the tools.
Bipartisanship Must Drive Modernization of Congress, Hill Staffers Say. While Congress has made some headway in recent years to modernize the way the national legislature takes advantage of technology, maintaining a bipartisan focus on modernization goals is the necessary ingredient to making further progress, current and former Capitol Hill officials said during a November 9 Partnership for Public Service online event. Former Rep Tom Graves, R-Ga., who was vice-chair of the Select Committee on the Modernization of Congress, said the modernization process – and the goal of improving how the legislature functions – has to travel a bipartisan path.
The struggle to modernize state UI systems. The Labor Department and the U.S. Digital Service are taking a central role in efforts to develop modernized, modular UI technology for states. The Department of Labor launched a new office dedicated to modernizing unemployment insurance (UI) systems in August, a signal of its intent to play a more central role in the development of modern, modular technology for these systems. The department is working with the U.S. Digital Service, a tech unit that works across the federal government, to develop those modular technology pieces for states to augment their own systems.
5 agility skills every leader needs to develop. Times of uncertainty call for leaders to become more agile in their emotions, learning, trust, reflection and in taking care of stakeholders, writes Mukesh Gupta, who builds on five principles of agility proposed by Henna Inam. "When our teams see us putting together a growth plan, when they see us continue to learn, when they see us growing different perspective, they do so as well," Gupta writes. Mukesh Gupta
Why you should seek "aliveness" over happiness. Instead of seeking a state of happiness that comes and goes, leadership coach Carolyn Mahboubi recommends striving for a sense of purpose that infuses us with "aliveness." "This level of vitality requires us to cultivate the practice of radical acceptance as well as the emotional agility to navigate the whole of life's offerings; the good, bad, ugly, joyful, hurtful, and yes, brutal experiences and people," Mahboubi writes. Thrive Global
How "strategic buckets" can keep projects on track. Companies can have the optimal number of fully funded projects in progress by being stricter about tracking and evaluating projects, as well as by revamping budgeting through a "strategic buckets" framework, writes Robert Cooper. "The method protects higher risk, innovation projects, because they are not compared to predicable, smaller ones; projects are only ranked against similar projects within their own bucket, not across buckets," Cooper writes. InnovationManagement (Sweden)
How to engage your audience's 5 senses with your words. Paint a picture with your presentation by using words that evoke an audience's sense of smell, taste, hearing, touch or vision, writes Jim Anderson. "If we can search our vocabulary and find the words that will have the most meaning for our audience, then we'll be successful in creating mental images that will allow them to see the points that we are trying to make," Anderson writes. The Accidental Communicator
Next Week on The Business of Government Hour: A Conversation with Michael Peckham, Acting Chief Financial Officer, U.S. Dept of Health and Human Services, Program Support Center. How does the PSC support the business of government? What is it doing to transform how it delivers services to its agency partners? How is it using emerging technologies to enhance its programs and services? Join host Michael J. Keegan as he explores these questions and more with Michael Peckham Acting Chief Financial Officer & Director of the Financial Management Portfolio at HHS' Program Support Center.
Broadcast Schedule: The show airs Monday at 11 a.m., and Friday at 1 p.m. on Federal News Network 1500AM WFED