Submitted by

MKeegan

on Fri, 06/03/2022 - 15:27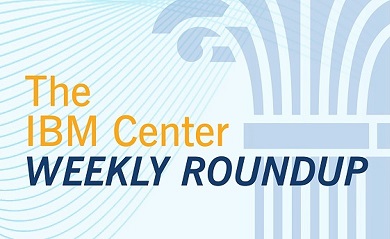 Highlighting articles and insights in public management and leadership that we have found interesting for the week ending June 3, 2022
DOD IG Releases Top Department Cyber Challenges in FY22. The Defense Department (DoD) Inspector General (IG) released a list of the top management and performance challenges facing the DoD in fiscal year (FY) 2022, including strengthening DoD cyberspace operations. The audit concluded that the cybersecurity issues identified could increase the risk of malicious actors targeting vulnerable contractor networks and systems, and stealing information related to the development and advancement of DoD technologies.
DISA moves 95 applications out of the sunsetting milCloud 2.0 platform. The Defense Information Systems Agency shutdown the milCloud 2.0 platform a week ahead of schedule. Sharon Woods, the director of the Host and Compute Center at DISA, said her team successfully transitioned 120 accounts off of milCloud 2.0 ahead of the June 8 deadline. Of the 120 accounts, 95 were on milCloud 2.0 and the rest were in a commercial cloud already and didn't need to be transferred.
VA OIG Warns Lack of EHR Metrics Risks Hospital Accreditation. In a new report, the Department of Veterans Affairs (VA) Office of Inspector General (OIG) found that the agency's first deployment site for its Electronic Health Records Modernization (EHRM) program lacks access to critical EHR metrics, and said that puts the hospital's accreditation status at risk. The June 1 report found gaps in available quality and patient safety metrics, more than a year after the EHRM deployment at the Mann-Grandstaff VA Medical Center in Spokane, Wash., in October 2020.
DOI Launches Draft Solicitation for $1 Billion Cloud Acquisition. The Department of the Interior (DOI) has released a draft solicitation that would offer a single public cloud service provider up to $1 billion to support DOI's transition to a single hybrid enterprise cloud cluster. Under the Cloud Hosting Solutions (CHS) III contract, DOI intends to "establish enterprise cloud services brokers to manage a portfolio of cloud computing, storage and application services across multiple vendor offerings," according to the draft solicitation published on May 27.
DoE's Frontier Supercomputer Named World's Fastest. The Department of Energy (DoE) on June 1 earned the distinction of running the fastest supercomputer in the world after that designation was announced for the agency's Frontier supercomputer system at the International Supercomputing Conference 2022 in Germany. The Frontier supercomputer system is capable of 1.1 exaflops of performance while featuring a "theoretical Peak Performance of 2 exaflops, or two quintillion calculations per second," according to DoE's Oak Ridge National Laboratory (ORNL).
DoD-commissioned study finds major shortcomings in civilian talent management. The Defense Department's non-uniformed workforce is comprised of some of the smartest people in the world. That might not be true forever. DoD's current policies and practices for managing its civilian cadre are far behind the times, and the department isn't doing nearly enough to plan its future workforce and find ways to make sure those plans come true, according to a new study by an influential advisory group. The Defense Business Board review found that DoD doesn't have the structures or tools to manage its civilian talent as a "strategic asset."
Why automation can't replace human connection . Watching a demonstration of a robotic pen write a generic thank-you note showed Steve McKee the limits of automation, especially when the task must embody some form of genuine humanity, connection and creativity. "The moment you automate a relationship it ceases to be a relationship," McKee writes. SmartBrief/Leadership
Strategic alignment starts with these building blocks. A common vision, combined with individual and team goals, collaboration and a sense of ownership can create powerful alignment for organizations and help them carry out their strategies, writes Alex Larralde. Larralde recommends certain tools to boost alignment, including software to enhance project management, communication and engagement. Betterworks
Digital requires reimagining business models. Digital transformation is less of a component of business as it is the beginning of business model revolution that starts with focusing on frictions that digital solutions can address, writes Rita McGrath. "My best advice here is to think boldly, but experiment cheaply and quickly to see which of your guesses about how digital could help your business thrive in the future," McGrath writes. Rita Gunther McGrath
3 examples can help leaders think about the future. Leaders need to take a long view of the future to set strategies that lead to sustained success, writes Larry Robertson, an author and innovation adviser. Robertson offers three examples of companies, including Google, that have incorporated such strategies and describes how leaders can think creatively about the future. SmartBrief/Leadership
ICYMI: Dan Chenok, executive director of the IBM Center for The Business of Government and former branch chief for information policy and technology at the Office of Management and Budget countdown his top three stories of the week impacting the business of government on FedScoop News Countdown.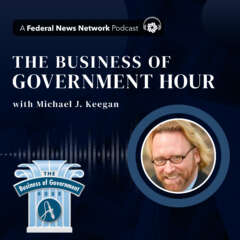 Next Week on The Business of Government Hour
:
Leveraging Information and Technology to Meet Mission: A Conversation with Gary Washington, Chief Information Officer, U.S. Department of Agriculture.
What is the IT strategy for the U.S. Department of Agriculture? How is it modernizing its IT systems and infrastructure? How USDA using technology to transform the way it operates and meets its mission? Host Michael Keegan explores these questions and more with Gary Washington, Chief Information Officer at the US Department of Agriculture.
Broadcast Schedule: The show airs Monday at 11 a.m., and Friday at 1 p.m. on Federal News Network 1500AM WFED
Anytime, Anywhere on...
https://www.podcastone.com/the-business-of-government-hour
https://itunes.apple.com/us/podcast/the-business-of-government-radio-hou