Submitted by

MKeegan

on Fri, 03/25/2022 - 14:10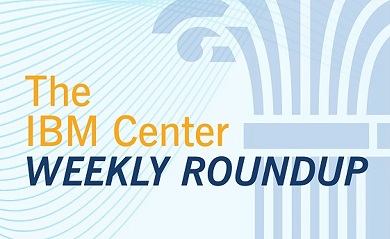 Highlighting articles and insights that we have found interesting for the week ending March 25, 2022
Blockchain: Emerging Technology Offers Benefits for Some Applications but Faces Challenges. NEW GAO Report: Blockchain combines several technologies to provide a tamper-resistant record of transactions between parties without a central authority, such as a bank. Although cryptocurrency is the best-known use, blockchain has potential non-financial uses. This report also highlights potential benefits and challenges of blockchain. GAO presents policy options for oversight, standard-setting, and more.
Accelerating Government with ACT-IAC – Episode 12: OTAs and the PMA Learning Agenda.  This episode includes Acquisition experts Stan Soloway and Jason Knudsen discussing their ground-breaking report on the expanding use of Other Transaction Authority (OTAs) in the federal procurement market and then catch up with innovation leader Jim Cook on the recently released President's Management Agenda (PMA) Learning Agenda.
The Fiscal 2022 Spending Bill Has Government Oversight and Transparency Provisions. The fiscal 2022 government funding bill signed into law earlier this week contains several provisions to increase government accountability and transparency. "Two provisions in the bill will increase transparency into apportionment, the executive branch tool used to allocate funds as directed by Congress," said the Project on Government Oversight, in a post. "With the enactment of this legislation, the Office of Management and Budget will be required to notify Congress when it is allocating funds and explain any conditions the executive branch is applying to the use of funds."
Senate Bill Seeks to Modernize 50-Year-Old Fed Rules for Services to SLGs. A new piece of legislation introduced in the Senate aims to update guidance for how Federal agencies go about providing specialized or technical services to state and local governments (SLGs). The bill would update existing guidance which was put in place in 1969. The "Improving Intergovernmental Cooperation and Reducing Duplication Act" would rework the 52-year-old rulebook with an aim to improve coordination between the different levels of government on services, and the systems used for delivery of services.
Sens. Hassan, Cornyn Want Planning for Fed 'Legacy' IT Replacement. The bill aims to reduce the federal government's reliance on outdated and obsolete information technologies (IT) by requiring agency officials to inventory their "legacy" IT systems and come up with plans to modernize systems. The Legacy IT Reduction Act of 2022 also would require the Office of Management and Budget (OMB) to assist federal agencies in that effort. Notably, the bill does not propose any dedicated funding for that IT replacement and modernization effort.
When to follow your gut and when to think more deeply. A gut feeling, or intuition, can be a valuable guide for decision-making, but it can also be colored by unconscious bias and emotion, writes Phil McKinney. "If you're feeling emotional about a decision, it's best to take some time to calm down and think things through before making a choice," McKinney writes. Phil McKinney
17 thoughts on how humans think. Most people are subject to narrow lanes of thinking, incomplete knowledge and a society that demands binary outcomes rather than probabilities, writes Morgan Housel. Housel offers 17 observations on human thinking, including how optimism and pessimism influence our actions and how we enjoy unique points of view only if they match ours. Collaborative Fund
Teams and groups need different leadership approaches. Leaders must recognize whether they are dealing with an interdependent, aligned team or with a group of people chasing independent goals -- a distinction that can sometimes change based on context, writes Susan Fowler. "If you think you're leading a team, but it's a group of individuals, you could be neglecting the one-to-one leadership individuals in the group need from you," Fowler writes. SmartBrief/Leadership
Use this 3-step strategy in a crisis. A study of executive responses to the pandemic by the National Preparedness Leadership Initiative found companies that questioned old strategies and used a "sensing-responding-adapting" approach met the time's unique challenges, writes Eric McNulty, NPLI's associate director. McNulty lays out the three stages and how companies can use them. Strategy+Business
* * * *
Next Week on The Business of Government Hour: A Conversation with Dr. Ben Bensaou on Built to Innovate. What are the key processes of innovating? Can innovating be taught and enhanced by continued practice? What are the core traits of an organization that is built to innovate? How can government executives innovate and find new ways to lead? Join host Michael Keegan as he explores these questions and more with Dr. Ben Bensaou, Author of Built to Innovate. Check out his
Broadcast Schedule: The show airs Monday at 11 a.m., and Friday at 1 p.m. on Federal News Network 1500AM WFED