Submitted by

MKeegan

on Fri, 03/24/2023 - 11:16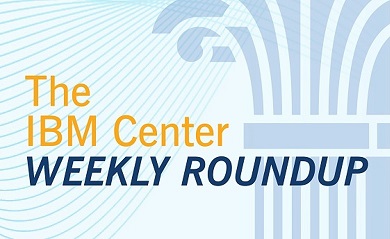 Articles & insights in public management & leadership that we found of interest for the week ending March 24, 2023
NEW REPORT: Preparing governments for future shocks: An action plan to build cyber resilience in a world of uncertainty. A new report that outlines a series of actionable steps designed to help governments emerge stronger from current and future cyber shocks.
Lawmakers Propose Civilian Cyber Reserve to Bolster DOD and DHS. Senate lawmakers introduced a legislative package on Tuesday to establish civilian cybersecurity reserve pilot programs within the Department of Defense and the Department of Homeland Security to help bolster the federal government's cyber resilience amid a national shortage of high-skilled cybersecurity personnel.
VA CTO: 5 Lessons Learned from VA.gov Overhaul. The Department of Veterans Affairs (VA) executed a complete overhaul of its website in 2018 to provide a more efficient digital service to its users. The agency embarked on the journey to make its user experience more seamless, and today – nearly five years later – VA.gov has 13 unique million users each month.  Charles Worthington, the VA's chief technology officer (CTO), shared the five lessons learned from his team's modernization effort for VA.gov. 
FTC Looking at Cloud Market for Security, Competition Risks. The Federal Trade Commission (FTC) said on March 22 that it is gathering data on the U.S. cloud computing market and its service providers to get a better handle on the market power of providers, their impact on competition, and "potential security risks." In a wide-ranging Request for Information (RFI) the FTC is looking to understand "the competitive dynamics of cloud computing, the extent to which certain segments of the economy are reliant on cloud service providers, and the security risks associated with the industry's business practices."
Cross-Agency Communications Playing Big Role in Zero Trust. Good communication plays an outsized role in how highly federated government agencies – those with numerous component parts – will be able to implement different approaches to zero trust security rather than pursue one-size-fits-all policies, Federal government officials said today at ATARC's Zero Trust Summit event in Washington.
CISA establishing 'systemically important entities' office. The Cybersecurity and Infrastructure Security Agency is working to identify the most vulnerable critical infrastructure organizations across the nation this year, with the agency also establishing an office to coordinate its engagement with those groups. The agency is moving to identify "systemically important entities" by the end of September, CISA Director Jen Easterly told the Cybersecurity Advisory Committee this week. "We plan to work very closely with the sector risk management agencies to identify initial systemically important entities and develop a program for enhanced engagement with those previously identified entities," Eaterly said 
Resource Scarcity Biggest Challenge in IT Mod, USDS Official Says. United States Digital Service (USDS) Director of Engineering Maya Israni said today that the biggest challenges her team sees Federal agencies encounter when it comes to IT modernization are resources, people, and appetite.
DISA Seeks Platform to Manage Diverse Cloud Networks. The Defense Information Systems Agency's (DISA) Hosting and Compute Center (HaCC) is looking to industry for help to quickly prototype an on-premises centralized network control plane to help manage a large collection of hybrid and multi-cloud environments as the agency moves forward with contract awards for its $9 billion Joint Warfighting Cloud Capability (JWCC) project.
HaCC is Prioritizing People, Optionality, Ease of Adoption. Sharon Woods, the director of the Defense Information Systems Agency's (DISA) Hosting and Computer Center (HaCC), today emphasized the three components that have led the HaCC to be the Department of Defense's (DoD) provider of choice for cloud and hybrid environments – the customer and their mission, optionality of services, and ease of adoption.
NSF supporting internal culture of innovation with infrastructure. Lots of agencies talk about fostering a culture of innovation among their employees, but the National Science Foundation has been so successful in those efforts that it's now supporting that culture with infrastructure. Dorothy Aronson, NSF's chief information officer and soon-to-be chief data officer, said the agency has created a central repository of low-code and no-code tools that employees have created to improve and automate their own workflows, to share them across the organization.
'Work From Anywhere' Works for Workers. GovExec Daily discusses how telework has changed – and benefitted employees – since early 2020.  According to a new study in Personnel Review, organizations that have strategic and effective HR and IT departments are better set up for success when shifting to remote work. As the new American work-life normal becomes clearer, effective telework becomes more important to organizations.