Submitted by

cmasingo

on Thu, 12/21/2017 - 14:19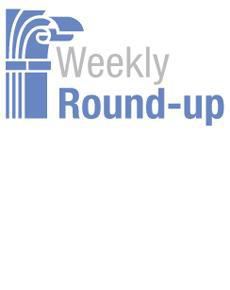 The IBM Center's Weekly Roundup highlights articles and insights that we found interesting for the week ending March 24, 2017.
John Kamensky
Shared Services Highlighted by CIO Council.  Federal Times reports: "A March 6 report by the federal CIO Council looks at how a government-as-a-platform IT approach leveraging cloud-based and hosted application programming interfaces can reduce duplication and help modernize services across agencies without substantial costs.'
Customer Service.  A new report by the Partnership for Public Service highlights the value of improving customer service/citizen experience as a way of improving mission results and reducing costs.
An Important Budget Footnote.  Federal News Radio points out a little-noticed one-liner in President Trump's budget: "To pay for additional defense and homeland security spending for the rest of the year, civilian agencies would see a $18 billion reduction in discretionary spending."  This one-liner refers to this fiscal year – the next five months – while the rest of the budget proposal (which is what received nearly all of the press attention) refers to cuts in the next fiscal year.
Advice on Reorg Plan. Steve Goodrich writes an op-ed piece in Government Executive: "I like it. No, I am not naïve, and yes, I have seen this many times before. But if done right, with a strong foundation and a plan, it could work. It could also be another once-and-done exercise that demonstrates little to no value."  . . . . And separately, a former Obama OMB executive says: "President Trump's March 13 executive order on reorganizing government has some advantages over those offered during the Obama administration, in the view of former U.S. Controller David Mader."
Limits on Acting Leaders.  Government Executive reports: "Senior leaders at federal agencies cannot serve in acting capacities at positions to which they have been nominated by the president to serve permanently, the Supreme Court ruled on Tuesday."
COOs in State Governments. Governing magazine reports: "Governors are slowly realizing that they need someone to take on the things they don't have time for. . . . The COO takes on the tasks that governors simply don't have the time to do, such as improving coordination between agencies."
VA Medical Records.  FedScoop reports: "It was a "strategic mistake" for the Department of Veterans Affairs not to move to an integrated, modernized electronic health record platform directly aligned with the Defense Department, the new VA secretary said Tuesday."  And separately, NextGov reports: "Newly confirmed Veterans Affairs Secretary David Shulkin promised Tuesday his department would decide by July whether to move to a commercial health records system. . . .It's a decision Shulkin said should have been made years ago."
Reactions to Management Agenda in Budget: Largely Hopeful:
USAF Digital Service. Federal News Radio reports: "The Air Force's new Digital Service is looking for ways it can increase speed and improve communications around acquisition. . . . .The Digital Service is helping with the development wavering GPS Operational Control Segment, a program that was pointed out for going more than 25 percent over its cost estimates. It's also working on the Air Operations Center Weapons Center 10.2, which is dealing with surging costs."
Michael J. Keegan
GSA looks to streamline cyber buying. Agencies will have access to products approved for a key federal cybersecurity program under the governmentwide Schedule 70 contract vehicle thanks to a new acquisition strategy being rolled out by the General Services Administration.
White House adds a tech adviser. Matt Lira, a former top staffer to the House majority leader, is joining the White House team.
The Trump administration has a management agenda! Steve Kelman digs into the administration's budget blueprint, and finds clear signs of continuity for improving government management.
Would Better Messaging Help the Military Boost Its Budget? Even if Pentagon leaders clarified their 'readiness' warnings, they'd still face an uphill battle for more funding in 2017.  If military leaders hope to convince Congress to fund the $30 billion supplemental that the Trump administration has requested for 2017 — let alone a larger plus-up the following year — they'll need to better describe the readiness woes that the extra money would fix.
How Contractors View Trump's Budget and Government Reform Agenda. Some proposed budget cuts rankle, but firms see plenty of work on horizon.
Acting FEMA Chief Spotlights Agency's Priorities for State and Local Emergency Managers. President Trump "wants to make sure FEMA is responsive ... and make sure that we're there for you."
* * * * * * *
Next Week's The Business of Government Radio Show.  What are the IT priorities for the US Department of the Navy? How is the Navy leveraging mobility solutions? What is the US Navy doing to enhance its IT security. Join host Michael Keegan as he explores these questions and more with Rob Foster, Chief Information Officer, U.S. Department of the Navy.
 Broadcast Schedule: The show airs Monday at 11 a.m., and Friday at 1 p.m. on Federal News Radio 1500AM WFED.