Submitted by

MKeegan

on Fri, 03/17/2023 - 12:06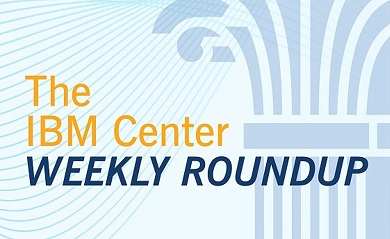 Articles & insights in public management & leadership that we found of interest for the week ending March 17, 2023
Celebrating 5 years of the Technology Modernization Fund. This week marks a significant milestone for the Technology Modernization Fund (TMF)— the five-year anniversary. The TMF, an innovative funding model for federal technology modernization projects, has grown and expanded significantly since its humble beginnings. Currently the TMF manages nearly $700 million for 38 investments across 22 federal agencies and has received and reviewed more than 220 agency proposals. Federal CIO Clare Martorana and Raylene Yung, the executive director of the Technology Modernization Fund, talk with Federal News Network's Jason Miller about the TMF's five-year anniversary.
Federal IT spending in 2024 request up by 13% in part thanks to cyber, CX plans. The White House plans to ask Congress for $74 billion in federal technology spending for civilian agencies in fiscal 2024. What is significant about that number isn't the fact it's a 13% increase over the 2023 request, rather it's the specific detail the Office of Management and Budget lays out for what that increase will go toward. Jason Miller of Federal News Network offers his analysis of 2024 IT budget request. 
State Department using RPA to slash financial statement processing time, says CIO Kelly Fletcher. The U.S. Department of State has used robotic process automation to cut the processing time for its monthly financial statement from two months to two days, according to CIO Kelly Fletcher.  Read about how. 
CX Primer: OPM's Cavallo Maps Persona-Driven Website Overhaul. The Office of Personnel Management (OPM) is driving forward on one of the Biden administration's key technology agenda items – citizen service improvement – by reworking the agency's main OPM.gov website so it makes more sense to the several different populations who rely on it the most.
Federal Data Center Consolidation: a $6 Billion Success Story. Nearly 13 years after the first data center consolidation effort – and a new GAO report recently found that agencies are exceeding their goals with respect to data center closures and savings to the taxpayers, closing 58 data centers in fiscal year 2021 and saving $612 million. The report also found that data center closures and optimization saved agencies an astounding $6.6 billion from 2012 to 2021. 
DoD Official Says Inaccessible Data Poses Biggest Challenge.  There is a lot of data to go around at the Department of Defense (DoD), but one of the biggest challenges the agency faces is that not everybody has access to the data that they need, a Pentagon official said this week. Bill Streilein, chief technology officer for DoD's Chief Digital and Artificial Intelligence Office, explained that when it comes to modernizing the DoD, the agency needs to implement IT that can continue to evolve and meet new challenges.
Why it's time for a pivot on digital identity. The White House should rethink their approach to reducing identity theft in public benefits to align with the broader objective outlined in the National Cybersecurity Strategy—one that would invest in digital identity infrastructure that can reduce identity theft and cybercrime in every sector. Jeremy Grant, Managing Director, Venable offers an insightful perspective on this topic. 
IRS Plans to Approve Use of Login-dot-gov as Tax Day Nears. The tax agency intends to add Login this filing season—and as early as next week—as the integration is in final rounds of testing. Taxpayers will be able to use the single sign-on tool to access tax documents and make payments through IRS.gov as soon as next week. 
Rep. Derek Kilmer to issue new bill pushing Congress to incorporate data and evidence into policymaking. The bill would establish a commission and convene experts to review, analyze, and make recommendations to Congress in an effort to better incorporate federal data and evidence-based policymaking throughout the legislative process.
https://dodcio.defense.gov/Library/ - Today the DoD CIO released an Information and Communications Technology - Supply Chain Risk Management (ICT-SCRM) placemat to build a better sense of DoD's approach to managing risk in the ICT supply chain. #cybersecurity 
https://regulations.gov/comment/OMB-20. Interesting set of comments to OMB from a broad coalition of experts and organization on modernizing Federal-State-local data sharing to improve service delivery outcomes.