Submitted by

cmasingo

on Thu, 12/21/2017 - 14:34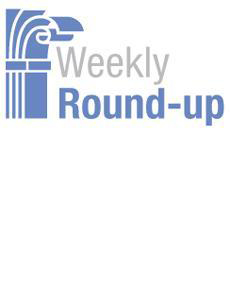 The IBM Center's Weekly Roundup highlights articles and insights that we found interesting for the week ending March 17, 2017.
Michael J. Keegan
Immigration modernization a work in progress. Efforts to modernize immigration processing systems at the U.S. Citizenship and Immigration Services have been rocky in the last couple of years, but the agency's acting director told a congressional panel that it's making some progress.
When 'compliance' should be a dirty word. Steve Kelman makes the case that using the word "comply" can have unintended consequences.
Lawmakers push DATA Act for financial industry. Rep. Darrell Issa (R-Calif.) has reintroduced a bill to modernize the financial reporting process for industry by mandating a standardized, machine-readable, open-data format. Specifically, the Financial Transparency Act would direct the government's eight financial regulatory agencies to adopt data standards for the information they collect from the private sector in order to reduce duplication, burden and fraud and make it available for download, accessible via application programming interfaces and easily searchable.
House votes to make it easier to fire VA employees for misconduct. The House passed legislation on Thursday that would give the Secretary of Veterans Affairs (VA) more power to quickly remove employees for misconduct. It would authorize the VA secretary to reduce an employee's federal pension if convicted of a felony that influenced work at the agency and recoup bonuses given to employees who engaged in misconduct or poor performance.
Trump Picks 'Mr. Fix-It' to Run Daily Ops at Pentagon.  Patrick Shanahan's missile-defense background could prove important in a Trump administration.
John Kamensky
Trump's New Management Agenda.  Much of the news on the president's new budgetfocuses on the dollars, but several pages in the "skinny budget" outline the beginnings of a management agenda, writes Government Executive: "The bulk of the plan's text addresses proposed reforms in agency management and performance, stressing an "evidence-based" approach to improving programs and services as well as hiring."
Government Reorg in the Works. According to FCW: "President Donald Trump is looking to devolve federal government functions to state and local governments, or to the private sector. In an executive order signed in the late afternoon of March 13, Trump promised a "comprehensive plan for reorganizing the federal government."
IG Shared Services.  Federal News Radio reports on a conference panel where a staffer at Energy's inspector general's office observed: ""We need money and people, and it's also there are silos across all IGs. There is no leveling, no economies of scale in the IG community. . . . .Imagine the savings if we consolidated our buying and had fixed costs for infrastructure like storage or compute."
Cyber Strategy on the Way.  Federal News Radio reports:  "Before the 15 commission and task force reports, before the 175 collective recommendations, Tom Bossert, assistant to President Donald Trump on homeland security and counterterrorism, had a handful of priorities in mind for how the new administration should approach cybersecurity. . . As it turned out, everyone working to advise the new administration was on the same page, and that line of thinking is validation of what could end up in the cyber executive order."
Are Agencies Falling Behind on FOIA?  Government Executive reports: "Nine months after President Obama signed a major reform of the Freedom of Information Act, a new survey shows that only 38 of 99 agencies have updated their rules,  according to the private nonprofit National Security Archive."
Agreeing on Results.  Andy Feldman and Seth Harris write an op-ed in Government Executive that outlines four recommendations on ways to keep federal agencies focused on delivering and improving results.
* * * * * * * 
T
his Week's The Business of Government Radio Show. Important social challenges cross agency boundaries, and working effectively to solve these problems is not easy. Join host Michael Keegan next week for a Special Edition of The Business of Government Hour as he explores how New Zealand tackles these wicked challenges with Rodney Scott, co-author of the IBM Center report, Interagency Performance Targets: A Case Study of New Zealand's Results Programme. How have Public Management Reforms evolved in New Zealand? What is the New Zealand Results Programme? What can other governments learn from the New Zealand experience? That's next week on The Business of Government Hour.
Broadcast Schedule: The show airs Monday at 11 a.m., and Friday at 1 p.m. on Federal News Radio 1500AM WFED.