Submitted by

MKeegan

on Fri, 06/18/2021 - 13:26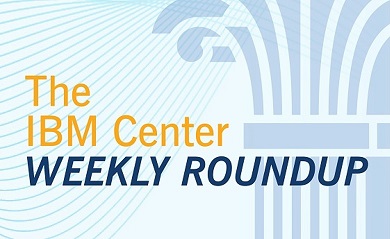 Highlighting articles and insights that we have found interesting for the week ending June 18, 2021
States and Localities Should Strengthen Data Analytics Capacity Using Rescue Plan Funds. This is the fourth of a multi-part blog series that will take a detailed look at the American Rescue Plan and the ways in which we can leverage it to strengthen the resiliency of our public health and human services infrastructure, and, in turn, substantially move the needle on social and economic mobility so families succeed for the long run.
The Growing Threat to Trust in Local Government.  It's been strong for decades, but the poisonous polarization at the federal level has begun to flow downhill, threatening to undermine the service to citizens that is the foundation of that trust. One of the hidden casualties of the pandemic is that trust in local government, long the strong foundation of governance in the United States, is showing cracks. There's time to patch the problem before the fractures spread further, but it will take some doing to prevent the hyperpartisanship of American government from eroding it away.
Data remains biggest obstacle to meeting 2023 deadline for TBM. The deadline for agencies to fully implement the Technology Business Management (TBM) framework is technically three months away, about the time when initial budget requests for fiscal 2023 will go to the Office of Management and Budget. Despite working on implementing TBM for the better part of four years, agencies continue to struggle with the data that is required to drive decisions and compare their costs with private and public sector experts.
DHS poised to remake federal hiring in September to confront cybersecurity gap. he Department of Homeland Security and the Cybersecurity and Infrastructure Security Agency are poised to advance a series of policy changes to cut the time it takes to hire cybersecurity professionals, redefine how the government evaluates cybersecurity skill sets and facilitate competitive pay rates. DHS will have to publish the rules for public comment to go live with the project, known as the Cybersecurity Talent Management System (CTMS). It has been years in the making, but officials say it will finally come online this fall.
Data sharing is critical for JADC2, but reciprocity is hard to enforce. Defense leaders can agree that mastering data analysis and sharing is critical for national security. But it's going to take more than a new policy to achieve the Defense Department's ultimate goal of connecting every sensor and shooter through Joint All Domain Command and Control.
Is it time to go back to the office? Steve Kelman considers the pros and cons of continuing maximum telework.
Don't play pretend with leadership. Bluffing your way through leadership is a poor strategy for a CEO, even when you lack management experience, writes Sabrina Horn, who started her company at 29. CEOs who accept their responsibility as boss, articulate their values and have a trusted set of advisers are on their way to authentic leadership, Horn writes. SmartBrief/Leadership
Productive problem-solving requires structure. Some workplaces react to problems by hunting for blame and throwing up their hands, as they lack a structured root-cause approach and the trust needed for honest discussions, writes Rick Bohan of Chagrin River Consulting. While there are numerous ways to create this structure, each involves a common approach that's visible, where "behaviors are practiced daily by everyone in the company, almost without thinking about them," Bohan writes. IndustryWeek
Subtraction and addition: Use both for success. Subtracting is a good tactic for improving ideas, processes and systems, but the concepts of subtraction and addition are complementary, not at odds or exclusionary, writes Leidy Klotz, director of the Convergent Behavioral Science Initiative. "The question is not, 'Should we add or subtract?', it's 'How do we use both?' "Future (Andreessen Horowitz)
Strategy frameworks help, but they aren't gospel. Hamilton Helmer's "7 Powers" offers much wisdom about strategic frameworks and how companies can succeed, but Shopify, Amazon Web Services and Data General are but a few examples of companies whose path doesn't mesh with what we'd normally expect, writes Cedric Chin. "The biggest takeaway you should have from this essay is simply that the path to Power is always more idiosyncratic and path-dependent and weird than you might imagine," Chin writes. Commonplace
How to be curious when someone thinks differently. Mark Sanborn was stuck on a plane next to a droning, complaining person until he asked, "Why do you feel that way?" That question, with its empathy and curiosity, is just one of 15 tips Sanborn offers for understanding people who think differently than you, even if you ultimately disagree with them. Mark Sanborn
Clear thinking is a lifelong process. The act of clear thinking is a never-ending lesson where "you're aiming at a process, the result of which will always be an act of communication, complete with all the imperfections and contingencies this implies," writes Tom Chatfield, author of "How To Think." Chatfield discusses why clarity requires knowing what you're claiming, determining whether a reasonable person would believe your claim and assessing whether your thoughts and actions are in alignment. Psyche
* * * *
Next Week on The Business of Government Hour: A Conversation with Jamie Holcombe, Chief Information Officer, U.S. Patent and Trademark Office (USPTO). What is the IT strategy for the U.S. Patent and Trademark Office (PTO)? How is it using technology and innovation to change the way it does business? Join host Michael Keegan as he explores these questions and more with Jamie Holcombe, Chief Information Officer at USPTO.
Broadcast Schedule: The show airs Monday at 11 a.m., and Friday at 1 p.m. on Federal News Network 1500AM WFED