Submitted by

MKeegan

on Fri, 06/17/2022 - 12:05
Highlighting articles and insights in public management and leadership that we have found of interest for the week ending June 17, 2022
Trustworthy: INCREASING CIVIL SERVANTS' TRUST AT WORK. NEW REPORT: @publicservice researchers explored civil servants' trust in two key dimensions of the federal government (1) government leaders and (2) civil service rules and their enforcement—and what agencies and Congress can do to improve it. Trust in leaders is a critical condition for government effectiveness as it can motivate employees to be innovative, to collaborate, to invest extra effort in their work and to perform beyond expectations.
TMF Targets $100M for Near-Term CX Projects. The Technology Modernization Fund (TMF) said it is targeting $100 million of nearer-term funding awards to Federal agencies that want to undertake projects to improve customer experiences with the government. The announcement of the funding plans today by the Office of Management and Budget (OMB) and the General Services Administration (GSA) – which administers the TMF – says that the "funding will support innovative technology projects focused on reducing burdens on the American public and the federal workers who serve them."
WH Official Details How OMB is Measuring Zero Trust Progress. The White House's Office of Management and Budget's (OMB) zero trust memo issued earlier this year, M-22-09, directed federal agencies to migrate to zero trust security architectures. Eric Mill, senior adviser to the Federal CIO and one of the principal authors of M-22-09, explained that OMB is looking at both "very tangible, technical steps" agencies can take in regard to the memo, as well as "broader, architectural changes" that may never reach "
Fed Leaders Discuss Human Challenge in Cyber Preparedness. Preparing for a potential cyberattack enables agencies to regain the use of critical systems and infrastructures as soon as possible after a crisis. However, according to federal leaders, the human element of any cyber preparedness plan remains a top challenge. A disaster recovery plan aims to ensure operational continuity following a cyberattack; it provides data asset protection and prevents potential data loss in the future. Yet a plan is only as effective as its defensive line – the workforce – said Kenneth Miltenberger, branch chief for the Cyber Red & Blue Team at the U.S. Coast Guard.
The Daily Scoop Podcast: Interview with Ed DeSeve on Data, Telework, and Remote Work. @EdDeSeve Coordinator of the #Agile Government Center @napawash & former Deputy Director for #Management @OMBPress discusses data, its availability to govt to define success w/ telework and remote work.
The Govtech space: Data, Privacy & Security, and Health. GovTech Europe speaks with Cristina Caballe, Executive Director, Global Public Sector at IBM, and a member of IBM Industry Academy. Cristina reveals what IBM has been doing in the world of GovTech and shares her thoughts on recent developments in the sector, from the effects of the pandemic to cybersecurity and the tech solutions to keep an eye on over the next few years.
GAO: DoD IT Programs Must Improve Cyber Planning, Performance Reporting. Some of the Department of Defense's (DoD) major IT acquisition business programs lack approved cybersecurity strategies and have failed to develop plans to address ICT supply chain risks, as well as report operational performance data to the Federal IT Dashboard, according to a new Government Accountability Office (GAO) report. In the report, GAO examined DoD's top 25 IT business programs. 19 of the 25 programs did not fully report their progress. Additionally, the 25 programs identified 172 operational performance metrics as of December 2021, but programs did not report any progress for 95 of those metrics. "By reporting incomplete performance data, DoD limits Congress' and the public's understanding of how programs are performing," GAO wrote.
NEW: @ACUSgov approves recommendation to federal agencies to adopt best practices when using "automated legal guidance" – which translates as the use of #AI and #chatbots that help guide the public online when dealing with agencies such as @IRSnews and @USCIS
CISA provides agencies with long-awaited cloud security guidance. The Cybersecurity and Infrastructure Security Agency has released new guidance for applying modern network security practices across multiple cloud computing scenarios. It's another evolution in a years-long effort to make it easier for agencies to securely adopt cloud services. CISA published the  draft Trusted Internet Connections (TIC) 3.0 Cloud Use Case on Thursday. CISA is accepting comments on the draft document through July 22 before it works toward publishing a final version.
Task force to review standards for ONC-certified tech. The Office of the National Coordinator for Health IT has launched a task force with members from @HCAhealthcare @Epicsystems  @Oracle @Cerner and other companies.
A critical challenge is key to creating good strategy. Identifying the most critical problem that your company can realistically tackle and solve is the crux of good strategy, writes Richard Rumelt, a professor at the University of California at Los Angeles Anderson School of Management. "When you try achieving too many things at once, policies and activities proliferate that work against each other -- friendly-fire -- that reduces overall effectiveness," Rumelt writes. Next Big Idea Club Magazine
4 steps to recover after enduring stress. After experiencing periods of significant stress, seize the opportunity to build self-awareness, writes LaRae Quy, who also recommends maintaining a positive attitude and using mild exercise to boost the body's immune system. "You can choose how to respond in the face of stress to maintain perspective and manage your emotions," Quy writes. SmartBrief/Leadership
Why audiences want your knowledge and your passion. Audiences want to know that you care about their success and have the knowledge, experience and skill to passionately tell them how to overcome the challenges they face, writes Nick Morgan. "For an audience, passion demonstrates 'skin in the game,' and that's essential or we won't take the answers we hear seriously and personally," Morgan writes. Public Words
Mind blank during a presentation? Try these tricks. Asking a rhetorical question, telling a joke, taking a few paces around the stage and pausing to make eye contact are all strategies to use when your mind goes blank during a presentation, writes Jim Anderson. When all else fails, be willing to refer to some note cards that you have prepared ahead of time, Anderson writes. The Accidental Communicator
These 5 things create the backbone of leadership. Leaders can create thriving companies by leading with strength, principle, integrity, nurture and energy -- or SPINE -- as John Baldoni writes. "Leading with spine creates an expectation of focusing on doing what is right to achieve results that improve the whole," Baldoni writes. SmartBrief/Leadership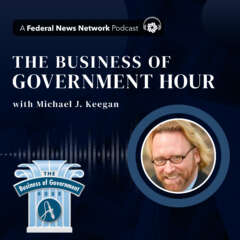 Next Week on The Business of Government Hour
:
Special SPADE 22 Edition of The Business of Government Hour explore multi-domain command and control (MDC2)/Joint All-Domain Command and Control (JADC2).
What is multi-domain command and control (MDC2) /Joint All-Domain Command and Control (JADC2)? \ How is Canada's Defence Team pursuing MDC2? What are the key technological developments supporting multi-domain operations? How are the U.S. and its allies collaborating to deliver on the vision of multi-domain and joint all domain command and control/JADC2? Host Michael Keegan explores these questions and more from the annual SPADE Defense Conference welcoming guests Len Bastien, CIO, Canada's Department of National Defence, Terry Halvorsen former CIO at DOD and General Manager, IBM Federal Solutions and host of this year's conference, and Major General Bob Wheeler, USAF retired.
Broadcast Schedule: The show airs Monday at 11 a.m., and Friday at 1 p.m. on Federal News Network 1500AM WFED
Anytime, Anywhere on...
https://www.podcastone.com/the-business-of-government-hour
https://itunes.apple.com/us/podcast/the-business-of-government-radio-hou