Submitted by

MKeegan

on Fri, 08/04/2023 - 16:06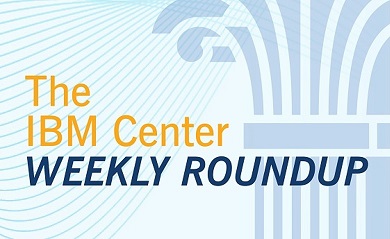 Articles & insights in public management & leadership that we found of interest for the week ending August 4, 2023
DoD CIO Points Agencies to JWWC for Future Cloud Wants. The Pentagon's top technology official is pushing defense agencies and components to use the Joint Warfighting Cloud Capability (JWCC) contract for all future cloud acquisitions and top-secret cloud capabilities. In a memorandum publicly released on August 3, Department of Defense (DoD) Chief Information Officer John Sherman told defense agencies and DoD components to use the JWCC contract for future cloud buys, and to transition their existing cloud contacts to JWCC upon expiration.
DoD CIO Releases Cyber Workforce Strategy Implementation Plan. The Department of Defense (DoD) has released its long-awaited cyber workforce implementation plan, which outlines a foundation for DoD to successfully execute the objectives and initiatives aligned with the Cyber Workforce Strategy, which was released back in March.
Gen. AnnMarie Anthony to Lead Pentagon's New Spectrum Office. Brig Gen. AnnMarie Anthony has been chosen to lead the Department of Defense's (DoD) new office aimed at enhancing the U.S.' strategic advantages in electromagnetic spectrum. The U.S. Strategic Command (USSTRATCOM) announced establishment of the new Joint Electromagnetic Spectrum (EMS) Operations Center (JEC) in a ceremony on July 26. The new center will serve as a key piece of the Pentagon's implementation of its spectrum superiority strategy to gain an advantage over adversaries and maintain dominance in the information space.
New #TrustinGovernment site. Explore our new #TrustinGovernment site to gain access to all our research about public perceptions of government! It features our new interactive dashboard, which provides greater insight into how people view federal agencies, services and employees. 
This week is the 30th anniversary of the Government Performance and Results Act of 1993. Where would we be without the modern federal performance system relies on our website for transparency in govt? Visit http://performance.gov to learn more!
Are We There Yet? The Evolution of the US Federal Performance Management Framework: 1993–2022. John Kamensky, IBM Center Emeritus Fellow, chronicles the adoption and use of organizational performance management techniques in the U.S. federal government and how it has evolved over the past three decades. He also posits that recent movements to develop more sustainable uses of data and evidence may.  hold lessons for the future of the federal performance movement. 
IRS Appoints David Padrino as Chief Transformation and Strategy Officer. The IRS has appointed David Padrino to serve as its Chief Transformation and Strategy Officer – a new role within the agency to help spearhead service overhaul efforts underway through funding in the Inflation Reduction Act of 2022.
Feds excited About Generative AI, but Proceeding With Caution. Government agencies have great interest in using ChatGPT and other generative artificial intelligence (AI) technologies but are proceeding cautiously amid security and other obstacles, Federal officials said at an AI forum this week. The Department of Defense (DoD) has been experimenting with smaller versions of OpenAI's ChatGPT, which has generated intensive debate over its potential applications but also risks since being launched late last year.
OPM CIO Previews Upcoming OPM Website Revamp. Office of Personnel Management (OPM) Chief Information Officer (CIO) Guy Cavallo previewed his agency's upcoming new website which he said is centered around improving four specific customer experiences and helping customers quickly find what they're looking for. OPM is currently working to revamp OPM.gov thanks to a recent $6 million Technology Modernization Fund (TMF) investment to update the technology behind, and content on, the website. 
How a Federal Ban on Ransomware Payments Could Help CISOs. The White House is considering a ban on ransomware payments, which could change the chief information and security officer (CISO) job. The ban would elevate the cybersecurity conversation to the CEO, the CFO, and the board, and potentially end the practice of scapegoating CISOs when a breach happens. This is a significant shift.