Submitted by

MKeegan

on Fri, 07/21/2023 - 11:49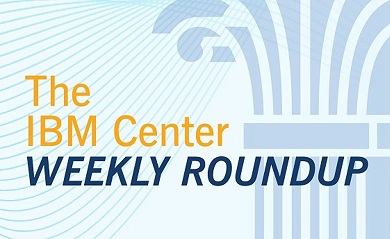 Articles & insights in public management & leadership that we found of interest for the week ending July 21, 2023
The Leap to Leader: To succeed as a senior executive, you need more than just special skills and competencies. You need a new mindset.  The author has conducted in-depth interviews with hundreds of CEOs. In this article, he shares the lessons that emerged about the mental shifts needed to make a successful transition to a senior leadership position. The process involves identifying and communicating your core values and learning how to approach tough decisions. It requires setting the bar for your team's performance and learning to compartmentalize so that you can find the right pace for yourself. And it requires expanding your self-awareness and paying attention to the stories you tell yourself about your experiences—your successes and failures, your bad times and good ones—when you contemplate the arc of your career and life.
How Generative AI Can Augment Human Creativity.  Generative AI can augment human creativity and overcome the challenges of democratizing innovation. In the past two decades, companies have used crowdsourcing and idea competitions to involve outsiders in the innovation process. But many businesses have struggled to capitalize on these contributions. They've lacked an efficient way to evaluate the ideas, for instance, or to synthesize different ideas. Generative AI can help over­come those challenges, the authors say. It can supplement the creativity of employees and customers and help them produce and identify novel ideas—and improve the quality of raw ideas. Specifically, can be use generative AI to promote divergent thinking, challenge expertise bias, assist in idea evaluation, support idea refinement, and facilitate collaboration among users.
Trustworthy AI' executive order in the works for agencies to keep risks in check.  The White House is calling on the federal government and industry to keep the risks of artificial intelligence in check. In its latest effort to promote ethical and technical standards for increasingly common AI tools, the administration is getting top AI developers to agree to certain safeguards for their products. A senior administration official told reporters Thursday that the White House is also developing an executive order that "will ensure the federal government is doing everything in its power to advance safe, secure and trustworthy AI," as well as manage its risks.
CISA sees CDM program entering 'new era' with focus on cyber defense operations. When the Department of Homeland Security launched the Continuous Diagnostics and Mitigation program a little over a decade ago, it represented a major shift in how federal agencies managed cyber risks on their networks. A little more than 10 years later, CDM has entered a "new era," contends Michael Duffy, the associate director of capacity building at the Cybersecurity and Infrastructure Security Agency in our interview and a recent blog post, using its enhanced visibility across federal networks to quickly detect and address vulnerable technologies.
CISA Rolling out Joint Collaborative Environment to Enrich Threat Data. CISA is rolling out its Joint Collaborative Environment (JCE) project in an effort to enhance its industry partnerships and enrich its cyber threat data. Aastha Verma, the chief of CISA's Cybersecurity Division, explained that CISA's public-private partnerships are all voluntary, so there is a lot of "trust building" her agency has to do. "Our ability to reach and create those industry partnerships is going to be key….the Joint Collaborative Environment … is designed to help share data and analytics, not just with other agencies, and not just with across civilian defense agencies, but also with the private sector."
Intelligence community and Defense Department to share classified cloud services. For the first time, classified cloud capacity will be shared between the Defense Department and the intelligence community. The two organizations recently signed a memorandum of agreement that will let them intermingle title 10 and title 50 funding in a top-secret cloud environment. The service, part of DoD's new Joint Warfighting Cloud Capability (JWCC), will be available in the continental U.S. (CONUS) first, with plans to eventually make it available outside the continental U.S. (OCONUS).
Intel community's new data strategy looks to lay foundations of AI future. The intelligence community is setting a two-year roadmap for its workforce to become more familiar with data and artificial intelligence tools — and is already charting progress toward those goals. The 2023-2025 IC Data Strategy lays out the steps all 18 intelligence agencies will take to develop a more data-savvy workforce, and set the groundwork for the IC to use AI tools. Lori Wade, the intelligence community's chief data officer, said in an exclusive interview that the 11-page strategy spends little time on background, but focuses on implementation of near-term goals.
DoD Looks to Accelerate its Rapid Defense Experimentation Reserve. The Department of Defense (DoD) is looking to improve its Rapid Defense Experimentation Reserve (RDER) initiative, with plans to rapidly accelerate the fielding of successful prototypes that will aid the warfighter, according to Under Secretary of Defense for Research and Engineering Heidi Shyu.
COVID-19 Registry Data Unreliable for DoD Decision-Makers, IG Says. The Department of Defense (DoD) cannot rely on the data in the COVID-19 Registry to make public health and clinical care decisions concerning the pandemic because it's incomplete, inaccurate, or unrepresentative of the DoD workforce, the agency's watchdog said in a July 7 report. 
White House to agencies: Be proactive about working with public on regulations. The White House is directing agencies to deepen and expand their interactions with the public on regulatory activities, with a specific focus on increasing proactive engagements with affected communities and using the Unified Agenda to broadcast public participation opportunities. In a memo released today, the White House Office of Information and Regulatory Affairs details specific action agencies should take to improve public participation and community engagement when developing regulations.