Submitted by

MKeegan

on Fri, 07/16/2021 - 11:13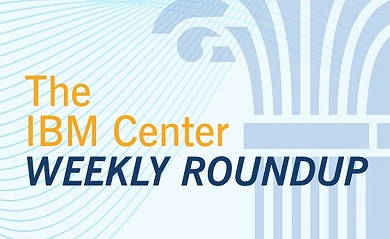 Highlighting articles and insights that we have found interesting for the week ending July 16, 2021
Five Ways Agencies Can Become More Agile. The government is beginning to adopt what many view as the new standard for how work gets done in a post-COVID world: the agile approach to project management. 
The agile methodology has its roots in the software development world. Agile has since made the jump into broader, non-IT applications, as project managers seek to cope with growing complexity in a world of rapid and unpredictable change. To address these issues and to encourage broader adoption of agile, the Project Management Institute, together with the National Academy of Public Administration, recently made five recommendations to make government more agile.
Innovation-Minded Feds Invited to Join New Community of Practice. Federal employees from multiple agencies recently formed a new Innovation Adoption Community of Practice. Through it, they will produce and share learnings to promote the application of modern approaches, practices and principles across the government.
"Digital.gov's Innovation Adoption Community is for any federal employee who identifies as an innovator, intrapreneur, or change agent—they don't have to work in a government innovation lab or hold sway over resources. We believe that innovation, intrapreneurship, and change is in the purview of all federal employees. Those with advanced experience can help those with less experience," a General Services Administration spokesperson told Nextgov.
States Can Use Federal Stimulus Money to Evaluate Program Effectiveness. American Rescue Plan funds available to build capacity to conduct and support impact assessments. As states continue to respond to the health and economic impacts of the COVID-19 pandemic, policymakers should look to use federal stimulus money to bolster efforts to regularly evaluate the effectiveness of programs and more broadly use evidence to invest in policies and programs proved to work.
OPM CIO Advises Nixing On-Prem Rulebook. OPM is finishing up a 90-day sprint geared toward further cloud service adoption, and the agency's acting CIO advised other organizations during MeriTalk's virtual Cloud Cafe event to toss out the on-prem rulebook when planning for their own cloud transitions. Guy Cavallo, who took over as OPM's Acting CIO in March after several years as Deputy CIO at the SBA, has long been a strong proponent of cloud service adoption by Federal agencies.
Agencies Embracing Managed-Risk Security. Federal cyber leaders are working to keep mission-critical data secure and available to employees working from home, in the office, and in the field at the tactical edge. Despite progress and intense focus, a boom in cybersecurity breaches is commanding national attention and highlighting the need for IT and security modernization throughout the Federal government.
Feds Call Operational, Organizational Maturity Keys for AI Deployment. As artificial intelligence (AI) adoption continues to grow across the Federal government, officials said on July 15 it's important to share lessons learned across the government and spoke about the importance of operational and organization efficiencies in the AI adoption process. At a virtual event organized by AI in Government, experts from the General Services Administration (GSA), National Science Foundation (NSF), and NASA talked about how their agencies got started with the AI journey.
DHS, DoJ Launch StopRansomware.gov Resource. The Department of Justice (DoJ) and Department of Homeland Security (DHS) have launched a one-stop shop at StopRansomware.gov for individuals, businesses, and organizations to help combat the increasing trend of ransomware attacks, the DoJ announced today.
VA Secretary Outlines EHRM Plans Amid Troubling OIG Reports. Department of Veterans Affairs (VA) Secretary Denis McDonough has called the recent VA Office of the Inspector General's (OIG) reports highlighting the Electronic Health Records Modernization (EHRM) program missteps "extremely disappointing," but told members of Congress on July 14 that he is proposing a new approach for the program he hopes will get VA's efforts "back on track."
Ask 4 questions to identify your leadership style. Identify your top three values, how you've demonstrated them and how you'd explain their importance to create a personal leadership brand you can practice and preach, writes Adam Bryant. "If you're lucky enough to work for an authentic leader, you won't have to spend energy wondering which version of the boss is going to show up on a given day, depending on either their mood or the stresses they are facing," he writes. Strategy+Business (free registration)
Do you need a leadership reset? This guide can help. Leaders may need to hit the reset button on how they're leading their team if trust is deteriorating or team behaviors need improving, writes Art Petty. Get feedback from your team on how to proceed, he writes, especially during big changes that require a "hard" reset. Art Petty
Use this road map to survive the next crisis. A crisis may uncover outdated business models and other strategies that need a refresher, writes Marsha Lindsay, CEO of Lindsay Foresight & Stratagem, who provides a road map to capitalizing on such situations. "Even in times free of crisis, the organizations that do well are always those that anticipate people's unmet needs and rise to satisfy them sooner," she writes. Chief Executive
* * * *
Next Week on The Business of Government Hour: A Conversation with Admiral Karl Schultz, Commandant, U.S. Coast Guard. What is the U.S. Coast Guard's strategic direction? How can the U.S. Coast Guard develop and sustain a mission ready total workforce? What is the U.S. Coast Guard doing to modernize its operations and infrastructure? Join host Michael Keegan as he explores these questions and more with Admiral Karl Schultz, 26th Commandant of the U.S. Coast Guard next week on The Business of Government Hour.
Broadcast Schedule: The show airs Monday at 11 a.m., and Friday at 1 p.m. on Federal News Network 1500AM WFED