Submitted by

MKeegan

on Fri, 07/14/2023 - 14:07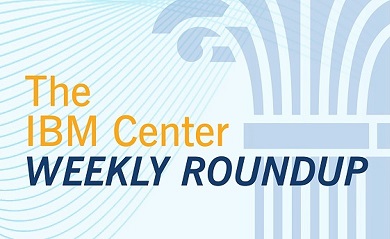 Articles & insights in public management & leadership that we found of interest for the week ending July 14, 2023
How can governments better prepare for supply chain disruptions. Supply chain interruptions and slowdowns linger as an effect of the pandemic. They make purchasing and acquisition difficult for both the private sector and government. Recently thinkers put their heads together to come up with ways governments can become more resilient on the supply chain front. Federal Drive with Tom Temin discussed all of this with Dan Chenok from the IBM Center and with Robert Handfield from North Carolina State University. Listen to the podcast on federalnewsnetwork.com.
FACT SHEET: The National Cybersecurity Strategy Implementation Plan. The recently released National Cybersecurity Strategy calls for two fundamental shifts in how the United States allocates roles, responsibilities, and resources in cyberspace: 1. Ensuring that the biggest, most capable, and best-positioned entities – in the public and private sectors – assume a greater share of the burden for mitigating cyber risk. 2. Increasing incentives to favor long-term investments into cybersecurity. The administration has announced a roadmap to realize this bold, affirmative vision.
Space Command Leader Sees AI Tech Deployments as Mission Critical. Lt. Gen. John Shaw, deputy commander of the U.S. Space Command, said that he sees deployment of AI technologies as vital to accomplishing the service branch's missions. Speaking at an event organized by the America's Future Series, Shaw laid out three big mission cases for AI deployments. "Space and cyber are BFFs [best friends forever]," Shaw said. "You can't separate the two. Space is relying on cyber, cyber is relying on space. Each of those domains depends on the technological forefront of the other…AI is exactly one of those," he said. There are at least three ways that I think we will be using artificial intelligence in the future from a U.S. Space Force and Space Command perspective.
Senate NDAA would bring chief management officer back to Pentagon. The short-lived position of Pentagon chief management officer lasted three years before it was cancelled. Its critics called it wasteful and inefficient. Now, the Senate version of the fiscal 2024 National Defense Authorization Act (NDAA) has a provision reinstating the position, and its supporters say this version provides for a charter that will solve the problems the office had in the past.
SBA IG Sticks With $200B Fraud Estimate, Says Agency 'Mistaken'. Small Business Administration (SBA) Inspector General (IG) Mike Ware told members of Congress that the SBA Office of Inspector General (OIG) is "super confident" in its $200 billion estimate of potentially fraudulent COVID-19 pandemic assistance loan programs. He also said that SBA's own estimate of $36 billion of fraud in the programs is inaccurate – and said, "they know that." The SBA OIG released a report on June 27 that revealed at least 17 percent of all COVID-19 Economic Injury Disaster Loan (EIDL) and Paycheck Protection Program (PPP) funds were potentially fraudulent.
Senate VA Panel Considers Bills to Improve EHRM Program. The Senate Committee on Veterans' Affairs held a hearing to consider two bills that aim to improve the Department of Veterans Affairs (VA) troubled Electronic Health Records Modernization (EHRM) program contract with Oracle Cerner.
Trust in the federal government is in a tailspin. Here's how agencies can rebuild it. COMMENTARY | Agencies must prove they are competent and support values such as transparency. The Trust Barometer, produced by global communications firm Edelman, confirms that: "The United States and United Kingdom …. have done nothing to improve their trust standing and will need to take more proactive measures if their current administrations want to be more confident about surviving the next election cycle," a summary of the 2022 findings states. Ed DeSeve encourages those working to improve government to prioritize efforts focused on enhancing efficiency, reliability, transparency and communication. By doing so, we can not only transform government operations but also move toward rebuilding trust. We are committed to this cause and invite others to join us.
What the Best Leaders Know — and What Skills They Develop. If you had the chance to talk to hundreds of business leaders at the top of their game, what habits and patterns would you learn? Adam Bryant has done just that. He's the senior managing director of the ExCo Group and founded the "Corner Office" interview series at The New York Times. Along the way, he has identified the mindset and attributes that the world's best leaders have acquired to truly influence and change their organizations. He shares what they are and how to develop them in your own career. Bryant wrote the HBR article "The Leap to Leader" as well as the book The Leap to Leader: How Ambitious Managers Make the Jump to Leadership.
6 Ways to Become a More Collaborative Leader. To gain influence, you must also be open to being influenced. Nobody wants to "negotiate" with someone who isn't open to other perspectives and can only see the world through their own limited view. Instead, try to cultivate genuine curiosity about other ways of seeing challenges and solutions. Instead of digging in or restating your preferred approach, ask open questions of colleagues who don't share your view and try to identify shared perspectives.