Submitted by

MKeegan

on Fri, 01/13/2023 - 16:28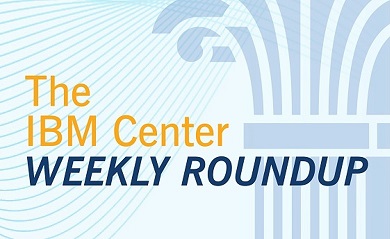 Articles & insights in public management & leadership that we have found of interest for the week ending January 13
How Should Government Regulate AI? We Asked a Robot. Artificial intelligence's potential in the public sector has grown exponentially, as have questions around appropriate guardrails. This article links to an interviewed of the ChatGPT chatbot from OpenAI to see what it had to say.
CISA to hold virtual meeting on $200M IT support contract. The Cybersecurity and Infrastructure Security Agency (CISA) that manages cybersecurity for the rest of the federal government is looking to bolster its own internal IT through a new contract and plans to hold a virtual meeting with industry before the end of January. It has been developing the Digital Support Transformation Services, or DTSS with the goal of procuring "digital transformation technologies and support services to establish [the Office of the Chief Information Officer] as the primary information technology source and management enterprise provider for CISA." 
Year in Review: CISA Grows Collaboration With Industry. The Cybersecurity and Infrastructure Security Agency (CISA) released its 2022 Year in Review report this week, highlighting the agency's increased collaboration with industry partners. Notably, CISA's Joint Cybersecurity Defense Collaborative (JCDC) – established by Congress in 2021 – celebrated its first year of operation in 2022 and grew its membership exponentially. The JCDC aims to reduce cyber risk through continuous operational collaboration between trusted partners in the public and private sectors.
DoD CIOs Say Innovation is Top Priority for 2023. Chief information officers (CIO) from the U.S. Army Reserve and the National Guard Bureau (NGB) laid out their top tech priorities and projects they have in the works as they head full force into 2023. Innovation topped the list during the discussions at AFCEA's Army IT Day on Jan. 12, followed closely by the broad theme of data management and specific projects like JADC2, BYOD, and network convergence.
U.S. national cyber strategy to stress the administration's push on regulation. The Biden administration is set to unveil a national strategy that for the first time calls for comprehensive cybersecurity regulation of the nation's critical infrastructure, explicitly recognizing that years of a voluntary approach have failed to secure the nation against cyberattacks, according to senior administration officials.
NEW BOOK: Technology and Public Management. Students of public administration, public policy, and nonprofit management require a strong foundation in how government are connected to information technology. In Technology and Public Management, Second Edition, author Alan Shark informs, engages, and directs students to consider best practices, with new material on emerging technology, data management and analytics, artificial intelligence, and cybersecurity.
NASA spent $35 million on 'wasteful' software licenses and fees, report says. NASA's current software management operations put it years away from achieving a centralized and consolidated enterprise computing model, according to its inspector general. NASA's software asset management practices have left the agency exposed to cybersecurity risks and other major operational and financial concerns, according to a new inspector general's report.  
8 essential elements of a great remote work culture. Once fiercely opposed to remote and hybrid work, Casey Cunningham, CEO and Founder of XINNIX: The Academy of Excellence, now endorses the practice and offers eight key strategies to build a solid remote/hybrid culture including trusting employees to do their job, equipping senior managers with six essential skills and communicating regularly with your teams. "When leaders don't take time for a real conversation, their colleagues will assume they don't care," Cunningham writes.  Put it into practice: Keep employees engaged remotely by using assessments to pinpoint what motivates them and create recognition programs to celebrate successes and work anniversaries, Cunningham advises. Chief Executive
Choose authenticity over image to be a great leader. Leaders who voluntarily share their weaknesses with others -- particularly high-level leaders -- were seen as more authentic, as well as competent, trustworthy and approachable, according to a study. "We found that these benefits of self-disclosure of weaknesses were restricted to relatable human foibles -- they did not hold for disclosure of serious flaws, such as having a panic attack in a speech," the researchers wrote. Put it into practice: Frequently share stories with your team about moments of doubt or fear that you know is a common experience to build trust around shared challenges. Avoid talking about ethical lapses or other serious mistakes you may have made in your past, though. Harvard Business Review (tiered subscription model) 
Next Week on The Business of Government Hour: Transforming the Way Government Procures Goods and Services: A Conversation with Sonny Hashmi, Commissioner, Federal Acquisition Service, U.S. General Services Administration (GSA). How is the GSA's Federal Acquisition Service (FAS) leveraging technology to transform how it operates? What is the Federal Marketplace Strategy? How does FAS play a role in managing the federal supply chain. Join host Michael Keegan as he explores this question and more with Sonny Hashmi, Commissioner, Federal Acquisition Service within the U.S. General Services Administration (GSA).