Submitted by

sfreidus

on Wed, 12/27/2017 - 14:53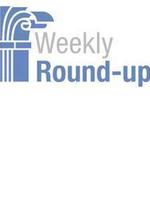 The IBM Center's Weekly Roundup highlights articles and insights that we found interesting for the week ending January 29.
An Empty Driver's Seat. Federal News Radio interviews Danny Werfel former federal exec, and former acting IRS commissioner: "Call it the eighth year syndrome. It's the last year of a presidency and scores of politically appointed slots throughout the federal government are vacant, and likely to stay that way until the next administration comes in."  Werfel gives advice on how career execs can manage through this period.
Customer Satisfaction Down, Again.  NextGov reports: "On scale of 0 to 100, citizens rated federal agencies overall a 63.9, a 0.8 percent drop from one year ago and the third consecutive year of decline in satisfaction, according to the American Customer Satisfaction Index. . . . Federal agencies scored below the national average for all public and private sector industries combined."
Post-Award Contract Management Toolkit.  Steve Kelman blogs in Federal Computer News that: "In response to my recent blogs on improving post-award contract management, ASI officials [government contracting consultants] have public-spiritedly stepped up to the plate -- by making a toolkit of reports they have written on this topic available for free, outside ASI's usual paywall."
On-Boarding 101. Former federal exec Stewart Liff writes in Government Executive:  During my 32-year federal career, I encountered hundreds of new employees who were enthusiastic about the promise of a great government career and the opportunity to make a difference. But after a brief period, far too many of these bright-eyed, bushy-tailed people were turned off and, in some cases, became downright cynical. . . . . How did this happen? They certainly didn't mysteriously morph into the stereotypical government employee. No, it was the onboarding process and the way managers treated these employees that caused them to turn to the dark side of the force.
DATA Act Implementation.  GAO reports that Treasury and OMB met the statutory requirement to publish data standards for the collections and reporting of federal financial spending information across the federal government, but that when the standards are assessed against 13 best practices for setting standards, that only 12 of the 57 data standards met all best practices.  GAO recommends Treasury and OMB provide clarifications to agencies, so the data standards are not misinterpreted, and lead to poor data quality. 
Michael J. Keegan
Stakeholders Tout Health IT Tools To Boost Chronic Care Management. Several health IT groups have sent letters to a Senate committee working group in response to a request for comments on how interoperability and telehealth can be used to improve chronic disease care. Most groups say they support expanding the use of telehealth services and the College of Healthcare Information Management Executives is urging lawmakers to facilitate interoperability across the care continuum. Politico's "Morning eHealth" et al.
ONC Committees OK Health IT Comparison Tool Recommendations.The Health IT Policy and Standards committees have sent recommendations for a national health IT comparison tool to the Office of the National Coordinator for Health IT. The recommendations, which were drafted by the Certified Technology Comparison Task Force, were approved after they were amended to include an ONC-conducted feasibility analysis. Clinical Innovation & Technology.
Five Major Health IT Vendors Agree to Interoperability Framework.Five major health IT vendors -- athenahealth, eClinicalWorks, Epic Systems, NextGen Healthcare and Surescripts -- have agreed to adopt the Sequoia Project's Carequality Interoperability Framework. Carequality Director Dave Cassel said he expects other health IT vendors, as well as government agencies, health information exchanges, payers and others to join in the future. EHR Intelligence, Healthcare Informatics.
Report Predicts Significant Growth in Hospitals' Spending on Health IT. A HIMSS Analytics report identifies five health technologies, including clinical data warehousing/mining and nurse staffing/scheduling systems, that are expected to see significant growth in the hospital marketplace. The report also predicts a surge in hospitals adopting computerized provider order entry to comply with meaningful use requirements. Healthcare IT News, HIMSS Analytics report.
Cautious enthusiasm for OMB's mobile consolidation plan. Federal CIOs and industry analysts see potential savings -- and potential problems -- with an emerging OMB policy that would compel agency IT managers to use GSA's mobile contracts.
Citizens losing satisfaction with feds, but web services fare OK. Online tools helped buoy sinking satisfaction levels as 2015 saw federal customers growing less and less pleased with what Uncle Sam had to offer.
GSA inches towards making acquisition data public. The General Services Administration is set to open its government-facing Acquisition Gateway to public users in the coming days, allowing contractors and industry acquisition professionals similar access to the aggregated acquisition data that federal acquisition workers now have through the portal.
* * * * *
The Business of Government Radio Show.  What is Enterprise Risk Management? How can federal agencies successfully implement ERM? What are some of the key challenges implementing ERM? Join host Michael Keegan as he explores these questions and more with Doug Webster and Tom Stanton, authors of Improving Government Decision Making through Enterprise Risk Management.
Broadcast Schedule: The show airs Monday at 11 a.m., and Friday at 1 p.m. on Federal News Radio 1500AM WFED
If you can't wait, though, you can listen to (or download) this week's program and all our previous interviews at businessofgovernment.org.