Submitted by

MKeegan

on Fri, 01/28/2022 - 13:29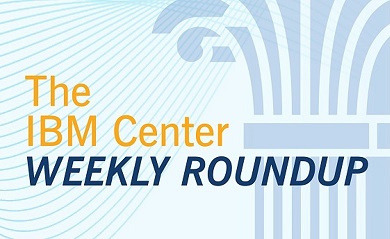 Highlighting articles and insights that we have found interesting for the week ending January 28, 2022.
It's Time to Bridge the Divide Separating Policymakers and Researchers. The President's Management Agenda (PMA) Learning Agenda released by OMB soliciting insights from industry and academics provides the perfect opportunity for government officials and public policy researchers to help one another solve pressing problems.
Federal Strategy to Move the U.S. Government Towards a Zero Trust Architecture. The Office of Management and Budget (OMB) released a Federal strategy to move the U.S. Government toward a "zero trust" approach to cybersecurity. The strategy represents a key step forward in delivering on President Biden's Executive Order on Improving the Nation's Cybersecurity, which focuses on advancing security measures that dramatically reduce the risk of successful cyber attacks against the Federal Government's digital infrastructure.
Biden Executive Order Reinforces Agency Cyber Priorities. CIOs discuss how agency leadership and change management facilitate Biden's cybersecurity executive order implementation. Additional cybersecurity requirements stretching across all public organizations are a welcome addition to modernization efforts, but require a strong leadership presence, two federal chief information officers described during an ATARC panel discussion on Tuesday.
How integrating automation can help improve government's delivery of the recent customer experience executive order. The Daily Scoop Podcast with Francis Rose spoke with Dan Chenok, Executive Director, IBM Center for The Business of Government this week on how automation can help improve government's customer experience.
An overview of Biden's first regulatory year.  Year one of the Biden administration involved halting and rolling back Trump administration policies, as well as making progress on the new administration's regulatory goals and policies. Because regulatory policy takes time, years two and beyond will establish how much of Biden's own agenda gets implemented, and how much of it can last.
One year on, a critical role needs to be filled by the administration. But as he approaches his first anniversary in office, he has neglected an important element that is critical to his success in this regard-he has not appointed someone whose mission is to oversee his ambitious regulatory agenda. 
The 2020-21 Presidential Transition: Lessons Learned and Recommendations. This report offers a detailed examination of the planning and execution of the 2020–21 presidential transition from the perspective of the Biden transition team, the incumbent administration and the federal agencies, with recommendations for future transitions. It findings reflect significant improvements to the presidential transition process created by a series of amendments to the federal transition law since 2010, and highlight areas requiring attention.
6 ideas for fixing a broken culture of innovation. Companies can spark new and better ideas by gathering cross-functional teams, asking them to do real research and avoiding quick fixes or knee-jerk restructuring, writes Art Petty. Brainstorming also benefits from a new approach, as "ideas must be visible in their entirety -- imagine walking around a room filled with ideas scribbled on flipcharts or whiteboards," Petty writes. SmartBrief/Leadership
How does giving negative feedback affect leaders? Empathetic leaders are more likely to be less effective in their job after giving negative feedback, whereas less empathetic leaders are sometimes more energized after such feedback, according to research. "The first step is to acknowledge that high- and low-empathy leaders face different challenges, and thus will likely benefit from different forms of support," the researchers write. Harvard Business Review (tiered subscription model)
4 ways to quit multitasking. Switching between tasks or moving from one project right to the next can drain energy, writes Dan Rockwell, who recommends single-tasking by working in blocks of time, silencing your phone and taking frequent breaks. "You can't move forward when you're running in circles," Rockwell writes. Leadership Freak
Why your company needs to imagine a crisis. Companies can plan for downturns by simulating an exercise where expenses must be cut by 20% to 25%, requiring painful decisions about products, services and employees, writes Gordon Daugherty. "The greatest value of the mock crisis lies in the discussions and debates it sparks among the management team," Daugherty writes. Texas CEO Magazine
Use this guide to develop servant leadership skills. Servant leadership is mostly about collaboration and stewardship, but leaders must also understand those infrequent situations where persuasion is less effective than positional power to push through bureaucracy, write Bob Vanourek and Gregg Vanourek. They sum up servant leadership through a quote by Robert Greenleaf: "The best test is: do those served grow as persons; do they, while being served, become healthier, wiser, freer, more autonomous, more likely themselves to become servants?" Triple Crown Leadership
How a 2-list system can improve productivity. Creating separate lists -- one for projects with end dates and for life "domains" that are open-ended -- can help you prioritize your time, especially when tasks are ranked and regularly reviewed, writes Khe Hy. "Once you've nailed the basics, you'll realize that tasks play a small role in a broader integrated system of designing a life rich with purpose and meaning," Hy writes. RadReads
* * * *
Next Week on The Business of Government Hour: A Conversation with Authors Series on Reskilling the Workforce with Technology-Oriented Training. What are the characteristics of an effective technology-oriented training? How can these programs help government agencies succeed in developing and reskilling the workforce of the future? What can be we ensure the transfer of technical, functional, and contextual knowledge to the workplace after training? Join host Michael J. Keegan as he explores these questions and more with Stacie Petter and Laurie Giddens, authors of the IBM Center report, Reskilling the Workforce with Technology-Oriented Training.
Broadcast Schedule: The show airs Monday at 11 a.m., and Friday at 1 p.m. on Federal News Network 1500AM WFED