Submitted by

MKeegan

on Fri, 01/20/2023 - 13:19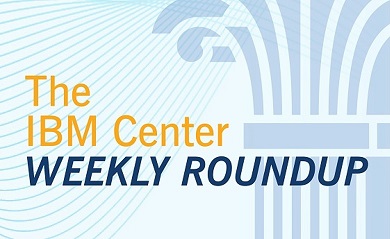 Articles & insights in public management & leadership that we have found of interest for the week ending January 20.
When the Infrastructure Boom Meets the Workforce Crash. Now, with the federal government pouring cascades of cash into state and local coffers, a new problem is on the horizon. Though this isn't widely recognized yet, all the money in the world won't make much of a difference if there aren't enough people, in and out of government, to spend the money effectively and in a timely way.
The case for more federal oversight of state and local budgets. An influential good government group is calling for tighter standards and is out with new recommendations for how Congress and regulators can begin taking action. But even before the Covid-era spending boom, the federal government was directing more than a $1 trillion annually in grants and tax incentives toward states and localities, as a new report from the nonprofit Volcker Alliance points out. Despite that degree of financial aid, the authors of the report argue that Congress and presidential administrations have "demanded surprisingly little in continuing, high-level oversight" of state and local budgeting and borrowing.
OPM pushes to rebrand government and capitalize on tech layoffs. The OPM co-hosted a job fair this with Tech to Gov, a coalition of public interest tech organizations including the Beeck Center at Georgetown University, the Federation of American Scientists, the Partnership for Public Service and others. The event is one part of longer-term efforts to make federal hiring less arduous and rebrand government as an employer, Kyleigh Russ, OPM senior advisor who works in OPM's Hiring Experience Group, told FCW.
Making risk work for you: Why cybersecurity risk management requires more than just threat mitigation. The government faces a daunting task securing federal networks. From the rise of wiperware—a class of malware that maliciously erases data on an infected device—to the proliferation of cybercrime-as-a-service, federal network defenders are confronting an increasingly dynamic and dangerous threat environment.
CISA hires Navy cyber expert to help oversee vulnerability management. The Cybersecurity and Infrastructure Security Agency tapped a Navy leader in cyber and network operations Wednesday to lead its efforts to mitigate potential vulnerabilities and information security weaknesses. The nation's cyber defense agency named Sandy Radesky as the associate director of vulnerability management in a statement posted to CISA's official Twitter account.
Lawmakers propose a federal reserve corps for digital talent. A bipartisan pair of House lawmakers active in cyber policy introduced legislation on Wednesday to create a "National Digital Reserve Corps" of civilian personnel who have the skills and experience needed to address a host of digital challenges across the federal government. The bill would allow civilian "reservists" to enlist for a three-year period with the federal government and work on a variety of "digital and cybersecurity projects, digital education and training, data triage, acquisition assistance and development of technical solutions." 
GAO: HHS Needs to Improve Pandemic-Level Pathogen Research Oversight. A new report from the Government Accountability Office (GAO) says that the Department of Health and Human Services (HHS) should improve its oversight process for such high-risk research activities. In the report, GAO explains that HHS developed an oversight policy, or "framework," in 2017, for high-risk research involving potential pandemic pathogens. The policy fails to fully meet the key elements of effective oversight. GAO made three recommendations to improve HHS's oversight of research.
Feds: Data Infrastructure, Sharing Critical to Public Health Response. From the very beginning of the COVID-19 pandemic, it was understood using data to gather insights from otherwise inert information across the entire health ecosystem would improve public health outcomes, but raising the value of that data requires a lot of work as the state of data collection, storage, analytics, and sharing was not up to the task of getting ahead of the virus outbreak.
CMS CIO: People Trump Tech in Modernization Effort. When it comes to building a resilient modernization effort, the people aspect of that task is "way more important" than the technology aspect, according to the Centers for Medicare and Medicaid Services (CMS) Chief Information Officer (CIO) Rajiv Uppal. Uppal explained that technology is the easier part of the modernization puzzle, while the people part is "always a little more challenging."
OMB streamlines contracting officer training with certification update. The Office of Management and Budget issued a new update to the certification process for contracting officers Thursday to streamline training and credentialing. In a memo from OMB's Office of Federal Procurement Policy, the agency outlined changes to the Federal Acquisition Certification in Contracting, or FAC-C, standard, aligning it with the Department of Defense's own contracting certification to ensure parity for the training and education of acquisition personnel. 
Next Week on The Business of Government Hour: Pursuing IT Modernization: A Conversation with Guy Cavallo, Chief Information Officer, U.S. Office of Personnel Management (OPM). What is the IT strategy for the U.S. Office of Personnel Management (OPM)? How is it modernizing its IT systems and infrastructure? What is OPM doing to secure its IT systems and infrastructure? Join host Michael Keegan as he explores these questions and more with Guy Cavallo, Chief Information Officer, U.S. Office of Personnel Management (OPM).
Broadcast Schedule: The show airs Monday at 11 a.m., and Friday at 1 p.m. on Federal News Network 1500AM WFED