Submitted by

MKeegan

on Fri, 02/11/2022 - 12:46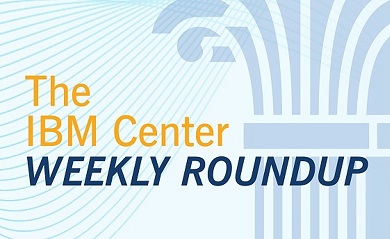 Friday, February 11, 2022
Highlighting articles and insights that we have found interesting for the week ending February 11, 2022
Federal Employees Teleworked More During COVID-19, But What Does the Future of Work Look Like? When COVID-19 struck, many offices and businesses allowed their employees to work from home or telework. But what do we know about the challenges telework has presented to federal agencies and staff, and what could the future of telework activities look like? Today's WatchBlog post looks at our latest report on federal telework during COVID-19.
2021 Trends Show Increased Globalized Threat of Ransomware. This joint Cybersecurity Advisory—authored by cybersecurity authorities in the United States, Australia, and the United Kingdom—provides observed behaviors and trends as well as mitigation recommendations to help network defenders reduce their risk of compromise by ransomware.
The Congressional Digital Service Fellowship Report. This report represents a collaborative effort and provides the background of the Congressional Digital Service pilot and the conditions under which it was launched. It highlights some of the issues the pilot sought to address, and the institutional offices and the SCMC recommendation projects the pilot supported. It also includes highlights from the global perspective, crises learnings during a critical period in Congress, and relevant findings of the program.
The United States needs a nationwide strategy to grow the cybersecurity workforce, nonprofit says. Great piece in  @washingtonpost on @napawash report, "The Federal Government's Role in Building a #Cybersecurity #Workforce for the Nation." http://ow.ly/tY9i50HPRbT
GAO Chides Feds on Pace of Evaluating Critical Infrastructure Cyber Work. Several Federal agencies that have been tasked with promoting the adoption of cybersecurity standards by private-sector critical infrastructure providers are coming up short in their efforts to evaluate whether private providers are getting that work done.That's the top-line finding from a new Government Accountability Office report issued Feb. 9.
GAO: Better Input, Data Needed for DoD Congressional Reporting. The Government Accountability Office (GAO) in a new report said the Defense Department (DoD) needs to improve stakeholder input and data gathering practices to better meet its obligations for reporting on national security topics to Congress. DoD is required to report on national security topics each year to Congress, with the number of new reporting requirements rising sharply over the past two decades – from 513 in Fiscal Year 2000 to 1,429 in FY 2020.
How Agencies are Ramping Up Their AI Workforces. Artificial intelligence-driven innovation requires top talent to drive agencies' missions forward, and Federal officials this week shared how their agencies are building and recruiting their AI workforces. The Department of Veterans Affairs (VA) has spent the last few years building and strongly recruiting for its AI workforce, according to Gil Alterovitz, director of the VA's National Artificial Intelligence Institute.
VA Reevaluating its Supply Chain Management System, Looking at Other Options. The Department of Veterans Affairs (VA) is taking a deeper look to evaluate its supply chain management system, the Defense Medical Logistics Standard Support (DMLSS. In deciding whether DMLSS is the best fit, VA Chief Information Officer Kurt DelBene said that the agency is also exploring other options. The VA's Office of Inspector General (OIG) released a report in November 2021 that found failures in VA's pilot project to deploy the DMLSS system at the Captain James A. Lovell Federal Health Care Center (Lovell) in North Chicago, Illinois.
Being a leader means making the tough decisions. Longtime board member and business executive Linda Zecher shares her insights on guiding organizations effectively. "If you try to be a leader who wants everyone to be happy, you're never going to lead anywhere," Zecher says. LinkedIn
Next time you have a problem, try taking something away. An overlooked way to solve problems is by removing unnecessary steps, features or policies, especially when the default is to fix by addition, according to researchers. Formal policies can help teams and individuals practice subtraction but be warned that it's harder to prove the effectiveness of subtraction, the researchers write. Harvard Business Review (tiered subscription model)
Why leaders need "meta-awareness". People can get so focused on a project that they miss the big-picture goal they're aiming for, says University of Miami neuroscientist Amishi Jha, who says it's possible to improve your "internal situational awareness." Jha offers an exercise called "River of Thought" that helps people observe their thoughts without being caught up in them. Strategy+Business
How to build habits of small innovation. Companies can encourage "micro-innovation" by creating a culture that welcomes questions, learning and new ideas, isn't overly task-oriented and values downtime, writes Britney Cole. "When a process creates unnecessary administration or you get hints of malicious compliance, it's time to rethink the process and suggest ways to streamline," Cole writes. Blanchard LeaderChat
Want to accomplish more? Step into this matrix. The Eisenhower Matrix is a tried-and-tested framework for determining the relative importance and urgency of your tasks so you can know what to do, delegate and remove, writes Lara Hogan. "Be sure to plot work based on what's true for you, rather than what you think you 'should' be doing," Hogan writes. Lara Hogan
Which of these 4 workplace models should you have? Organizations need help figuring out their post-pandemic workplace, and this model offered by Maria Roche and Andy Wu focuses companies on one of four approaches based on company size and growth strategy. For example, they argue that smaller organizations can more easily be fully remote, while larger organizations focused on collaborative creativity might require a full-sized corporate campus. Harvard Business Review (tiered subscription model)
Creativity, with structure, can lead to innovation. The formality of agile can still leave room for employees to be creative and explore new ideas because of the parameters and structure of agile, says MIT Sloan professor Steven Eppinger. "Leaders should embrace that same kind of curiosity -- not only the why, but the trying and failing and testing of things," Eppinger says. Ideas Made to Matter (MIT Sloan School of Management)
How the pandemic affected collaboration. A Harvard Business School study of more than 4,000 organizations' emails, meetings and chat messages from 2019 and 2020 suggests that the pandemic forced teams to focus more on their own departments and communicate less across the enterprise. Researcher Tiona Zuzul says that while such "siloing," can be detrimental, the bigger lesson is about rethinking organizational design. Harvard Business School Working Knowledge
Next Week on The Business of Government Hour: A Conversation with Sonny Bhagowalia, Assistant Commissioner, Office of Information and Technology, and Chief Information Officer, U.S. Customs and Border Protection. What is the IT strategy of the CBP? How is CBP modernizing its IT infrastructure? What is CBP doing to change the way it does business using technology and innovation. Join host Michael Keegan as he explores these questions and more with Sonny Bhagowalia, Chief Information Officer, at the U.S. Customs and Border Protection on next week's The Business of Government Hour.
Broadcast Schedule: The show airs Monday at 11 a.m., and Friday at 1 p.m. on Federal News Network 1500AM WFED