Submitted by

MKeegan

on Fri, 02/25/2022 - 14:00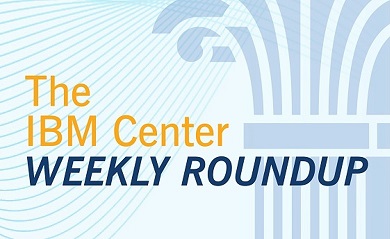 Friday, February 25, 2022
Highlighting articles and insights that we have found interesting for the week ending February 25, 2022
DHS Deputy CDO Emphasizes Data for Evidence-Based Decisions. Carlene Ileto, deputy chief data officer at the Department of Homeland Security (DHS), explained the agency's data strategy and data governance approaches at a Feb. 23 virtual event organized by FCW, and emphasized how DHS is aiming to use data for making evidence-based decisions.
Army CDO Says More Data Plan Details Coming Soon. David Markowitz, the U.S. Army's chief data officer and analytics officer, said today that the service branch is closing in on publicly releasing further details about its data plan including governance issues and major objectives.
CIO Council Developing Zero Trust Playbook. The CIO Council is currently leading an effort, along with a multi-agency working group, to develop a new Zero Trust Playbook for agencies, according to Thomas Santucci, the director of the General Services Administration Data Center and Cloud Optimization Initiative Program Management Office (DCCOI PMO).
GAO Prods OPM on Modernizing Legacy Financial System. The Government Accountability Office (GAO) is flagging cost over-runs and delays in efforts by the Office of Personnel Management (OPM) to modernize a key legacy financial system, and giving the agency a list of recommendations including adopting some key practices for the project.
Defense Health Agency CIO Looks to Improve Procurement. Pat Flanders, the chief information officer (CIO) at the Defense Health Agency (DHA), said today that the biggest thing he wants to improve within his agency going forward is not IT, but procurement.
DoE Supply Chain Security Plan Keys on Digital Assets. In response to President Biden's Executive Order 14017, America's Supply Chains, the Department of Energy (DOE) today released a comprehensive plan to ensure security and increase energy independence in the United States. 
FDIC Innovation Chief Quits, Citing Government's 'Tech Hesitancy'. About a year after joining the Federal Deposit Insurance Corporation (FDCI), Sultan Meghji, the agency's chief innovation officer (CIO), quit his job at FDIC on Feb. 18 and cited "tech hesitancy" in government as his primary motive for doing so.
Feds Continue to See Benefits of Remote Work Two Years Later. The Federal workplace looks a lot different today than it did in March 2020, but Federal tech officials say they continue to see the benefits of remote work and hybrid work two years after the COVID-19 pandemic hit and do not have plans to rush back into the office anytime soon.
Putting Data to Work at the Tactical Edge. In January 2022, government and industry technology leaders discussed edge computing challenges and opportunities. This article highlights progress and what is needed from government and industry as more and more data is collected and analyzed at the network's edge.
The Persistent Problem of Poor Data Quality. Unquestionably the problem of poor data quality needs continued – and more aggressive – attention. We know there have been improvements in many places since we wrote our 2015 feature, but though people who are dedicated to state and local government are taking steps in the right direction, in the words of Robert Frost they have "miles to go before they sleep."
CISA Launches Free Cybersecurity Tools Website. The Cybersecurity and Infrastructure Security Agency (CISA) has launched a new webpage featuring a catalog of free cybersecurity tools and resources that the agency hopes will serve as a "one-stop resource where organizations of all sizes can find free public and private sector resources to reduce their cybersecurity risk."
Principles can help you focus on today's problems. Business models and principles of the past can provide guidelines as you craft a strategy that addresses today's unique challenges, writes Robert Whipple. "As you read and think about the various strategic tools, try not to get caught up on the specific tools and examples the authors use, because the logic in examples illustrates the time when they occurred," Whipple writes. The Trust Ambassador
How to make resilience a team sport. Incorporating resilience "as a team practice and a team principle and a team priority" helped companies manage the immediate crisis of the pandemic, but sustaining that will require a different approach, says consultant Keith Ferrazzi. Teams should be asked to reflect on the past two years and decide what they want to keep and what they want to change, Ferrazzi says. Harvard Business Review (tiered subscription model)
Why companies shouldn't apologize to unforgiving foes. Apologizing when a company comes under attack for perceived transgressions can backfire if forgiveness isn't in the cards, writes Tim O'Brien, founder and principal of O'Brien Communications, who recommends riding out the controversy and presenting a united front. "The goal is to get through each set of onslaughts without giving the bullies what they demand: apologies and concessions," O'Brien writes. PR News (tiered subscription model)
4 success stories you need to tell about yourself. "Success statements" are good ways to demonstrate your business-focused contributions to senior leadership while showing off your communication, critical thinking and team leadership, writes executive coach Joel Garfinkle. "Remember that self-promotion is key in getting ahead, even when you have the best track record and great advocates speaking for you," Garfinkle writes. SmartBrief/Leadership
***   ***   ***
Next Week on The Business of Government Hour: A Conversation with Caroline Kuharske, Acting Chief Data Officer, Defense Information Systems Agency. What is the data strategy for the Defense Information Systems Agency (DISA)? How is DISA leveraging data as a strategic asset? Join host Michael J. Keegan as he explores these questions and Caroline Kuharske, Acting Chief Data Officer at the Defense Information Systems Agency.  That's next week on The Business of Government Hour.
Broadcast Schedule: The show airs Monday at 11 a.m., and Friday at 1 p.m. on Federal News Network 1500AM WFED