Submitted by

MKeegan

on Fri, 02/18/2022 - 14:48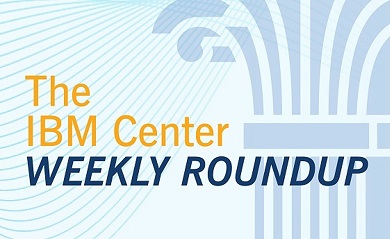 Friday, February 18, 2022
Highlighting articles and insights that we have found interesting for the week ending February 18, 2022
Federal CIO Issues Data Call Asking Agencies How They are Using AI. Federal CIO Clare Martorana currently has a data call out to several Federal agencies asking them how they are currently using AI, their current AI use cases, and what AI work they have in production, according to a DHS program manager. Amanda Mitchell, program manager for DHS' AI/ML Integration and Transformation program, said at a AFFIRM event that the data call stems from President Trump's 2020 Executive Order 13960 on promoting the use of trustworthy AI.
VA's EHRM Struggle: CIO Shares Missteps, Changes for Road Ahead. The Department of Veterans Affairs (VA) has faced a troubled rollout of its Electronic Health Records Modernization (EHRM) program, including underreported costs, deficiencies in training, and diminished employee morale. But VA's recently installed CIO says the agency is coming to grips with those problems and looking for better performance in coming expansions of the program.
CISA Director: 'Culture Eats Strategy for Breakfast'. Cybersecurity and Infrastructure Security Agency (CISA) Director Jen Easterly made a strong pitch on Feb. 17 for the agency's push to create an underlying culture of organizational success that she said is critical to creating optimal performance at the nation's cyber defense agency.
DoD Urges Use of Continuous ATOs for Improved Cyber Posture. A new memo from the Department of Defense (DoD) is encouraging the use of a continuous Authorization To Operate (cATO) under the National Institute of Standards and Technology (NIST) Risk Management Framework (RMF) – instead of a point-in-time ATO – to serve as the "gold standard" for systems' cybersecurity risk management.
DHS asked for advice on the cyber workforce, and it certainly got some. If cybersecurity is one of the nation's most potent threats, the answer is as much a talent question as technology. NAPA evaluated what the agency is doing to help build the nation's cyber workforce. With highlights of what it found, NAPA study co-chairs Karen Evans and Dan Chenok spoke to the Federal Drive with Tom Temin.
The Importance of Management Policy in American Governance. This essay introduces federal management policy, outlines key policies implemented over the past 100 years, identifies key stakeholders in designing and implementing them, and highlights the enormous size and scale in human, financial, and technological resources that they govern. 
To Get Better at AI, Get Better at Finding AI Talent. The military branches need to coordinate on goals and means of cultivating people who can advance the use of artificial intelligence. The Defense Department's recent efforts to raise its artificial intelligence game have revealed a few obstacles. There are no cohesive goals across the military branches, and there is no way of knowing whether each service has enough people with the right skills. DOD should work with the services to establish AI-specific goals for cultivating technical talent, make it easier for all personnel to learn about AI and put it to use.
How to build a culture of leadership. A culture of leadership provides opportunities for everyone to be responsible and accountable, as well as mentoring and feedback to grow those skills, writes Tom Dobbins. "The culture has to encourage collaboration, thoughtful risk taking, making decisions and ultimately not punishing failure or falling short of goal," Dobbins writes. Core Affinity
Writing down your ideas will teach you new things. A practice of writing down your ideas can help crystalize them and bring to light new directions, information and opportunities, writes Paul Graham. "Half the ideas that end up in an essay will be ones you thought of while you were writing it," Graham writes. Paul Graham blog
Here are 4 steps effective leaders follow. Leaders can't make improvements unless they are clear on what's working and what's not with their strategy, processes and people, writes Paul Thornton, who offers four steps for identifying new possibilities and delivering a compelling message for change. "If the first requirement of a leader is to define reality, the second requirement is to identify the best opportunities to improve the status quo," Thornton writes. SmartBrief/Leadership
How to be intentional with hybrid work. Hybrid work has a better prognosis when companies spend more time with onboarding, hold fewer and shorter meetings and trust employees to do their jobs, says Acceleration Partners founder and Chairman Robert Glazer. "I will posit that, if you are asking your managers to track mouse movements, and your employees are buying mouse movers, your company is losing in whatever industry it's in," Glazer says. Ideas Made to Matter (MIT Sloan School of Management)
7 personal challenges that can improve your leadership. To challenge yourself is to try something new, scale up your skill set or explore "new attitudes, behaviors, skills, and practices," writes Dan Rockwell. "Advancement begins at the point of discomfort, when you try something you haven't done," Rockwell adds. Leadership Freak
Next Week on The Business of Government Hour: A Conversation with Marianne Roth, Chief Risk Officer, Consumer Financial Protection Bureau (CFPB). How is the CFBP using Enterprise Risk Management? What is CFPB doing to embed risk-based decision making into its culture? How is it tackling its most mission critical risks? Join host Michael Keegan as he explores these questions and more with Marianne Roth, Chief Risk Officer, Consumer Financial Protection Bureau, on next week's The Business of Government Hour.
Broadcast Schedule: The show airs Monday at 11 a.m., and Friday at 1 p.m. on Federal News Network 1500AM WFED