Submitted by

cmasingo

on Fri, 12/22/2017 - 09:44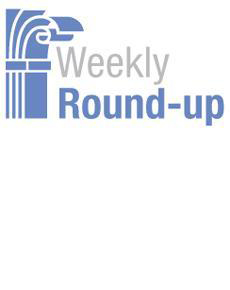 Friday, February 17, 2017
Articles from across the Web that we at the IBM Center for The Business of Government found interesting for the week of February 13-17.
John Kamensky
Defense Goes Live.  Federal News Radio reports some good news: "Almost exactly four years after the Defense and Veterans Affairs departments decided to go their separate ways in their projects to modernize their electronic health records, DoD's brand-new EHR is now up and running, at least at one base."
Chief Digital Officers. Federal Times reports: "A chief data officer with a clear mandate and chief executive support can define a mission and team that uses data stewardship and analytics to enable culture-changing decision-making in government, according to a report recently released by the Harvard Kennedy School's Ash Center."
GAO Assesses Food Safety System, Again.  According to a new report by the Government Accountability Office: "The safety and quality of food involves16 federal agencies. For more than 4 decades, GAO has reported on the fragmented federal food safety oversight system. Because of potential risks to the economy and to public health and safety, food safety has remained on GAO's list of high-risk areas since 2007."  The report assesses actions to date and options for ways to improve coordination.
Improper Payments Spike, Again.  Federal News Radio reports: "Improper payments increased for a fourth straight year in 2016. Despite the $7 billion increase over the year before, David Mader, the former Office of Management and Budget controller, said there is good reason for the steady increase to the bottom-line number."  Mader notes that the dollar number for improper payments is up – totaling $144 billion in FY 2016 – but that the percentage as a share of total spending, is down.
GAO Hi-Risk List Expands.  Government Executive reports: "The Government Accountability Office added three new items to its biennial list of high-risk federal programs, which it released to Congress on Wednesday. There's some good news though: One important issue was removed from the high-risk list—the multi-agency effort to manage terrorism-related information—and progress on other programs over the last decade has resulted in savings of $240 billion, GAO estimates."
New Project Management Law.  Federal News Radio reports: "The Project Management Improvement Accountability Act will be a 'transformative tool' to help agencies cut down on wasteful spending — as long as its rollout doesn't hit too many speedbumps under the new administration. . . . During a Feb. 15 Congressional Government Efficiency Caucus hosted alongside the Project Management Institute (PMI), lawmakers on both sides of the aisle said they were hopeful the newly enacted law [December 2016] will be more than just 'a nice thing to do.'"
Reorg Rumor. Federal News Radio reports: "The White House is preparing a new executive order to require agencies to plan and suggest ways to reorganize the government. . . . Federal News Radio has learned that a draft order is circulating in the government and could be issued this week after the expected Senate confirmation of Rep. Mick Mulvaney (R-S.C.) to be the director of the Office of Management and Budget.
FBI Moves to Using Predictive Analytics.  FedScoop reports: "The FBI's cybercrime unit is developing predictive policing capabilities, Assistant Director Scott Smith said during a panel discussion at the 2017 RSA conference. . . . Predictive policing is a broad term used to describe law enforcement's ability to forecast criminal activity. In cyberspace, such technology could feasibly help officers pinpoint a data breach or other illegal internet activity before it happens."
Michael Keegan
No pause in DOD innovation programs.  If there is any anxiety in the tech sector about whether Department of Defense innovation programs will continue under the Trump administration, there's no sign of it at conferences taking place in San Francisco. Despite the fact that a number of key leadership positions at the Pentagon have yet to be filled, and some of the innovation programs were barely operational when Americans went to the polls, attendees at the RSA and AFCEA conferences told FCW that there's no hesitation to engage with DOD programs like Defense Innovation Unit Experimental or the Army's Rapid Capabilities Office.
New DOD health record looks to engage patients. The initial rollout of the Pentagon's new commercial electronic health record system has begun, with full implementation set for 2022. The MHS Genesis system, a $4.3 billion installation of the Cerner electronic health record software being implemented with an assist from integrator Leidos, is being tested in at Fairchild Air Force Base in Washington. The award for the system was made in July 2015.
Some IT bright spots in GAO annual risk report. The Management of IT Acquisitions and Operations remains on latest edition of the GAO's high risk list of federal programs or functions that that put $1 billion or more in jeopardy, endanger public health or safety, service delivery, national security, economic growth or privacy. According to GAO, efforts by the Office of Management and Budget and federal agencies to get a better handle on the management of IT acquisition and operations is showing results.
Prime time for the Data Act? The cause of government transparency is due to hit a major milestone in May, when machine-readable federal financial data is finally published online under the Digital Accountability and Transparency Act.
After the award: How to make contracts deliver. A recent roundtable discussion found strong consensus that agencies and industry must team up to improve communication, collaboration and trust. 
VA moves ahead with homegrown scheduling IT. The Department of Veterans Affairs will test an internally developed scheduling module at primary care sites nationwide to see if it's ready to service the entire agency. 
* * * * * * *
This Week's The Business of Government Radio Show.  What are the key priorities for HHS' OIG? What are the top management and performance challenges facing HHS? What are the characteristics of an effective inspector general? Join host Michael Keegan as he explores these questions and more with Daniel Levinson, Inspector General of the U.S. Department of Health and Human Services.
Broadcast Schedule: The show airs Monday at 11 a.m., and Friday at 1 p.m. on Federal News Radio 1500AM WFED.
If you can't wait, though, you can listen to (or download) this week's program and all our previous interviews at businessofgovernment.org.