Submitted by

MKeegan

on Fri, 09/01/2023 - 16:21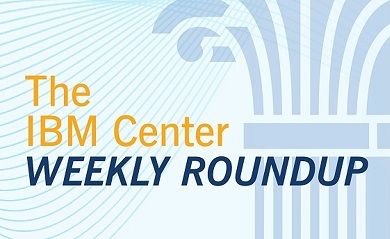 Friday, September 1, 2023
Articles & insights in public management & leadership that we found of interest for the week ending September 1, 2023
The White House released details about two cross-agency customer experience projects meant to improve how the government provides benefits and services in the latest update on the President's Management Agenda posted on performance.gov. The update also previews forthcoming tools and resources meant to help agencies implement the 21st Century IDEA Act, a law meant to improve government websites and digital services. 
GSA CIO David Shive on Embracing AI, Workforce Evolution. How can the federal government get in front of two of the dominant – and in some measures alarming – forces of change on the technology landscape and set a course to harness the potential of those trends for improving service delivery and customer experience? GSA long-time CIO David Shive discusses unavoidable challenge of putting artificial intelligence (AI) technologies to work, and also how to evolve the government tech workforce to meet the demands of the next evolution in tech thinking and practices.
USDS Celebrates 9 Years of Transforming Federal Digital Services. The United States Digital Service (USDS) has been "laser-focused" on its mission to deliver better government services to the American people through technology and design since August 2014. USDS does this by partnering with federal agencies to create, update, redesign, reimagine, and transform government services for the better, USDS Administrator Mina Hsiang wrote in an article celebrating her agency's ninth birthday.
DoD Standing Up UX Portfolio Management Office. The Department of Defense (DoD) has plans to establish a user experience portfolio management office and hire a senior official to lead the office. The user experience portfolio management office will live under the Office of the Chief Information Officer (CIO). The DoD CIO is working to establish the new office in support of the department's objectives to provide a holistic approach to managing user experience as a portfolio that ensures a consistent and focused effort with result-driven measures and accountability.
DIU partners with Pacific Command to provide new technology. The Defense Innovation Unit will partner with U.S. Indo-Pacific Command (INDOPACOM) to help the organization develop and acquire cutting-edge technology. The high-profile partnership signals a coming-of-age for the eight-year-old innovation unit that started as a facilitator pairing industry and government for technological innovation. Now, it is working directly with Defense Department partners to help them get the scientifically advanced tools they need.
How and why DoD has updated its readiness plan for biodefense. If the COVID virus showed anything, it's the potency of the biology threats. The Defense Department recently completed its 2023 biodefense posture review. It deals with many potential threats from the bio domain. Principal Deputy Assistant Secretary of Defense for Nuclear, Chemical and Biological Defense Programs, Brandi Vann speaks with Tom Temin. 
OPM looking to take agencies' data innovations governmentwide. After the Office of Personnel Management set data goals to reach over the next several years, the agency is looking for new ideas from other agencies to take to scale. For example, OPM recently incorporated a tool from the National Institutes of Health (NIH), first developed back in 2018. NIH's Excel-based program pulls data points from each main theme of the annual OPM survey, organizes the survey results based on those themes by agency, subcomponent and office, and then shows the change in responses for a specific item over the years.
Army preparing to take zero trust to tactical edge. The Army is bringing the concepts that make up zero trust to the tactical edge, and it will not be easy. The tactical environment includes operational technology, weapons systems, and typical IT systems, and all of them work in a disrupted, disconnected, intermittent and low-bandwidth environment. Col. Michael Smith, the director of the Army's functional management office for zero trust and director of the unified network task force, said the first step to bringing advanced cyber capabilities to the tactical edge is performing a gap analysis.
Investing in Growth Through Uncertainty: Smart leaders embrace opportunities even as they reduce spending. When faced with disruptions and downturns, many leaders and companies instinctively focus on cutting costs to maintain profitability. But some identify opportunities and then take thoughtful action to emerge from crisis even stronger. That means not only planning for worst-case scenarios and pressure-testing operational and financial health but also staying alert for ways to find a winning edge and making needed investments. Those leaders do so by fostering three mindsets: sensemaking in crisis, a bootstrap ethic, and stakeholder balance. 
Mourning the passing of Joe Wholey, 88, a distinguished #publicservant. Joe worked in several federal agencies and was a recognized leader in both government evaluation as well as performance measurement. He was instrumental in the early implementation of GPRA. He was also former chair of the Washington Metropolitan Area Transit Authority.