Submitted by

MKeegan

on Fri, 08/26/2022 - 13:20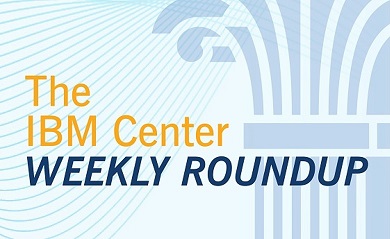 Articles and insights in public management and leadership that we have found of interest for the week ending August 26, 2022.
Federal Experts Want More Visibility Into the FedRAMP Process. Both vendors and federal officials want more visibility into the Federal Risk and Authorization Management Program (FedRAMP) process, which certifies the security of cloud technologies for Federal government use and is operated by the General Services Administration (GSA).
Risk Management Practices Key in Cybersecurity, Feds Explain. Because adversaries like China and Russia increasingly have their hands in the information communication technology arena – whether directly or through subsidiaries – one of the keys to improving cybersecurity in an expanding threat landscape involves strong risk management, in addition to prevention. Victoria Pillitteri, the Federal Information Security Management Act Lead at the National Institute of Standards and Technology (NIST) adds that cybersecurity is a journey, rather than a destination, and the goal is to stay one step ahead of your adversaries. She underscores that risk management practices must be in place because it's no longer about if – but rather about when – an attack will happen.
DoD to release, start implementing new zero trust strategy by Oct. 1. The Defense Department is ready to get serious about transitioning its network defenses to zero trust principles. The Pentagon expects to release a formal zero trust strategy by mid-September, wants to have an enterprise-wide zero trust implementation in place by 2027, and is already in talks with commercial providers about how to implement zero trust in the cloud.
NRO, NGA expanding commercial industry partnerships with new awards in the works. The National Reconnaissance Office plans to make awards to radio-frequency sensing satellite providers as soon as next month, as spy agencies move to expand their work with the commercial sector in both space and artificial intelligence capabilities. Pete Muend, director of the NRO's Commercial Systems Program Office, says the agency is evaluating proposals requested under the agency's "Commercial Strategic Enhancement" Broad Agency Announcement.
Army unit finds: A better place to work starts with listening. Tom Temin speaks with the Army Space and Missile Defense's Dana Henslee, part of the agency's workforce development staff. Henslee's work is crucial to SMDC, which is the Army's top-ranked command on the most recent Best Places to Work list. The improvement effort, Henslee said, started in 2019. The initial focus aimed at the Federal Employee Viewpoint Survey question about whether people think survey results will be used by management to improve things.
AI: Success is in the Research. Daniel Chenok, Executive Director at IBM Center for The Business of Government to talks about the importance of AI in the field. From democratizing data to improving office operations, application research is a key component for any government agency looking to integrate artificial intelligence into their mission.
Algorithm v. Algorithm. Informative and important insights from Cary Coglianese at @pennlaw on the use of digital #algorithms to improve government decision making. Critics raise alarm bells about governmental use of digital algorithms, charging that they are too complex, inscrutable, and prone to bias. The question about the future of public administration is not whether digital algorithms are perfect. Rather, it is a question about what will work better: human algorithms or digital ones.
How introverted leaders can draw on their strengths. Gregarious leaders may be more visible, but more introverted leaders can play to their strengths of thinking deeply and their planning and decision-making skills to inspire their teams, writes Lolly Daskal. "Introverts are especially effective leaders for an organization that has a creative and energetic workforce, because they draw out that energy even more," Daskal writes. Lolly Daskal
The 20-minute practice that can improve leadership. Investing 20 minutes a day or less in journaling in the morning and the evening can help executives plan their day, evaluate what's working and what's not and measure progress toward their goals, writes Art Petty. Petty offers 20 prompts to get started and reasons why this exercise is about more than just keeping a diary. Art Petty
Developing effective objectives and key results. Having clear objectives and key results can give a team and a company clear guidance on measurable goals and keep them focused on what matters, even as circumstances change, writes Rico Surridge. "I always encourage teams to provide early insight into 'the things they might try,' or the initiatives they will investigate or experiment around in order to achieve their results," Surridge writes. Medium (tiered subscription model)
Broadcast Schedule: The show airs Monday at 11 a.m., and Friday at 1 p.m. on Federal News Network 1500AM WFED